We all know about crew cuts, well the Ivy league Haircut is among one of the most recognisable crew cuts. Well if you don't know about ivy league, it's a group of educational institutes including Havard or Princeton. The name ivy came as it is the colour used by these academic institution's buildings. Coming back to the haircut the bottom half of the head is generally short. The top part while is longer than in the low while controllably short. Meanwhile, we cut the top portion of the head short and even to give the finishing in ivy league hairstyle.


So, we all know that there are tons of hairstyle to put on in the modern time. One has complete freedom about the style they want to wear; they want to look. Why Ivy league haircut then? Well, the answer is simple and efficient for all. It's because the hair itself is better than other in every perspective. One can look fresh, confident, and gorgeous at the same time. The ability to be stylish and smart is not a boon for everyone. You can, and you definitely must wear this style to enhance your personality. So, let's look at the different modifications and the add-ons to the legacy of the ivy league hairstyle.

Classic Ivy

Here, we have a simple and classic example of a bald fade with simple techniques. We can observe and tell confidently from the picture above that the haircut itself is so good. We have a bald fade in the bottom, and along with that we also have a trimmed beard. Overall, it is a complete hairstyle.
Ivy With Short Pointed Top

The pointed top came to the practice in the punk ere along with the pop rock music. Among, different forms of these hairdos, we use the shorter one here. We have a stylish celeb look which never grows old. Also, we have the freedom to wear this style with any items of clothing.
Side Comb Over Top
We have the habit of using comb over hairstyles since we were kids. This style reflected smartness and discipline then, so do they now. These hairstyles look cosy in every type of clothing, formal or informal. Similarly, we can use these hairstyles with different forms of beard.
Zac Efron


Most of us may remember him from the movie 'Baywatch' where he played a lifeguard alongside 'Dwyane Johnson'. So, if you want to look like an Olympic gold medalist and a stylish nerd at the same time, you would like to try Ivy haircut. Here, Zac has a taper fade-medium, ivy league haircut with his sexy blue eyes.
Clean-Trimmed Beard And Fade Ivy

Most people think that a finely trimmed beard donot match easily with the hairstyles. Well, this might be a problem for others but not if you are wearing ivy league hairstyles in your head. These beauties go well with almost every kind of beard styles. It is also one of the reasons most people like it.
Long Ivy League Haircut

By definition, we have classified these hairstyles as the short hairstyles. However, we can have some modifications that suit our look and personality. For example, we can use more extended versions at the top as shown above. Along with that, the model also has a clean-shaven face to complement with his hair.
James Franco
A man who is emerging in the film industry like a boss. James Franco is a renown actor for his roles in 'Why him' and 'This is the end'. And his personality is improved bt a touch of ivy in his head. Alongside the style, is his smile and freshly trimmed beard which makes him a complete package of style.
Ivy Haircut Comb Over
We recognise combs to be the most used instrument to style our hair from a long time now. We know that a touch of proper combing will let our hair be from Trash to gentleman. Similarly, comb-over styles are easy to manage, and most of the people adore it. Above, we have a model wearing an ivy league with top[ comb-over. Besides that, He has a clean shaven face to compliment his style.
David Beckham
When it comes to being stylish, David Beckham is second to none. An accomplished footballer whom most people take as a style icon even after his retirement. Alongside, his football career, he also had dozens of different hairstyles. Among them, the one most people will remember his Long ivy league haircut from his time playing football in Paris. This stylish footballer has an eye of a tiger and a personality of a gentle unicorn. Complimenting his styles are his smart haircuts which never failed to leave an impression.
Ivy League Hairstyles And Suits
With formal clothing like suits and uniforms, the ivy league is one of the best you can get. It simply may be because of its compatibility. Similarly, if we have a group of members trying to look cool at the same time, then we would look towards this style. Also, we can use different hair colours to go with the hairstyle.
Justin Timberlake

Justin Randall Timberlake is among the most recognisable face of 2018. A successful American singer, song producer dancer and many more. With his evergreen abilities is the combination of his stylish attire and his fantastic personality. Here, he is wearing a sparse top ivy with his signature sparse trimmed beard and breathtaking style.
Ivy League Haircut fade

If you have a problem with how to ask for an ivy league haircut, then take this photo and go to your hairdressers. Here, we have a fade with ivy. This version is an innovative hairstyle which goes well with almost every kind of skin tone.
Ryan Reynolds

Ryan Reynolds is the most adored and respected actor for his versatile acting abilities. With his latest box office hits 'Deadpool' and 'Deadpool 2', he is at his peak of the career. The central part of his attire of the sexiest man alive 2013 is undoubtedly his hairstyle. Here, he has a medium ivy with his favourite Medium-thick sparse beard.
Getting An Ivy

If you have a problem with how to ask for an ivy league haircut, then take this photo and go to your hairdressers. He will most happily give you what you want as every barber knows these haircuts. We can also have different modifications as piercings, colourings, tattoos and neck ornaments to go well with the ivy.
Comb Over With Chin Beard
Comb over hairstyle gives us the freedom to use different types of beard along with the demand. We can put on chin beards which stay in the frontal part of a face and is quickly noticed. We can also use different colourings in the beard to look funky.
Ivy League Hairstyle With Spectacles


Most of the hairstyles donot go well with the pair of spectacles. While this is the problem for most of the other styles, it's not the thing to worry if you wear an ivy league hairstyle. These hairdos are famous for their compatibility with different forms of person's attire. We can have a pair of regular reading glasses or funky shades; these go perfectly well.
 Hairstyles And Pout

Pout is the trend, It's fun and looks social. Mainly famous in female groups of selfie-takers, these are photogenic and fun packed. Here we have a model with ivy haircut along with a pout while taking the picture. More importantly, he seems comfortable in this style.
Ryan Gosling

Ryan Gosling is a Canadian born actor and musician known for his charm and personality. He has back to back box office hits and is well known for his character in  'La La Land'. Along with his different styles, the one that describes him best is his ivy league haircut. He looks calm, composed and sexy in his outfit and his hairstyle.
Uniform Medium Haircut

We have two distinct ways to cut our bottom part in ivy league haircut. The first one is a short fade hairstyle. The other is as shown in the picture above. We can keep them medium all over. This would distribute the energy in the face all over. We can also experiment with different forms of beards and hair colour along with this style.
Gentleman's Haircut

What is the definition of a gentleman? We can find it very difficult to explain. But, if you want a visual example of it, then I would undoubtedly suggest you the man wearing this hairstyle above. He is looking agonisingly good with his suit and the personality here.
Ivy Haircut with Clean-Shaven Face


We can use different types of beard with the Ivy. So, does that mean that it doesn't pair well with a clean-shaven face? Absolutely not. Men's ivy league haircut gives you the freedom to try every combination of add-ons so you can get a perfect style.
Wavy Long Hair
Not too long Not too short, The wavy hair falls just between the both. Hence, It shows the qualities of both of these. We can use these styles with the ivy too to give the perfect combination. Also, we can have any choosable hair beard combination as we please here.
Zayn Malik
The former One Direction band member and an equally successful solo artist, Every girl wants to make Zayn Malik theirs. So, what is behind the magnetic aura of the prevailing attitude. It's undoubtedly his personality, voice, and his style. The one factor which is always backing him up is his haircut. He wears a short combed ivy league haircut here, which matches perfectly to his looks.
Channing Tatum
Channing Tatum, just who doesn't know him? From Dance movie 'step up' to his latest box office hit'Logan Lucky' he has proved them all that his versatility got no limit. Assing to that is his Great style and personality supported by his hair. Here, we have a medium-fine hair with a clean-shaven face.
Ivy League Hair with Long Thick Beard
Some people like to grow their beard to the extent. These bulky strands in the face give the person wearing it a more voluminous look. We can relate beard to the boldness of the person. Also, we can grow the beard freely without any problem to the haircut. The ivy league hairstyle gives you the freedom to experiment with the beard-hair combination as you please. Above, we have a medium hair with a fade below. Complimenting this haircut is a long thick beard which the model has partially coloured.
Brad Pitt

From 'Fight Club' to 'Seven' including his latest blockbuster 'Fury', Brad has shown his worth in the movie industry. Also, what's iconic is his style and is a breathtaking personality. Here, he wears a side-combed medium ivy, with a touch of shades. Complimenting his styles is his clean-shaven face.
Short Top Comb-Over

This hairstyle is among the most chosen modern ivy league haircuts. These are well balanced and go well with almost every kind of modifications. We keep the top of the head to medium length and comb over to the rear. We can wear this style along with linings and piercings.
Top Straight Flat Haircut

The flat top is mostly chosen hairstyle in the top no matter what the overall hairstyle represent. The hairstyle here is not a complete Flat-top as only the foremost hair is flat. But, still, we have a new and composed haircut we can wear with other modifications.
 Board Face With Ivy and Fade

We have to wear a different form of hairstyle with varying facial structure from person to person. Some of us have a round face while some with an edgy one. The ivy league hairstyle, however, goes well with any facial ranging all over. Above, we have a Round, board face with a smile in the model and he is wearing a short ivy with taper fade.
Haircut With Piercing
Piercing always enhance a persons look as well as personality. Along with that, we can use its ornamental value to distribute the focus around the face consistently. Body piercings don't necessarily affect the hairstyle, but the facial piercing is more critical in hairdos. Piercing is the symbol of fearlessness and power. Here, the model has a significant size ear piercing. Alongside, he is wearing with a long comb-over ivy. Overall these haircuts are among the perfect hairstyles.
Top Comb-over With Bald fade

Bald-fades are compatible haircuts. We can foresee this style going well with different other combinations. Similarly, we have a striking combination of top pointed, side-combed and bald fade haircut as we can see above.  Here we have a complete haircut with perfect finishing from a clean-shaven face.
Mens Ivy League Hairstyle

We have a classic haircut, and then we have a modified one. One can approve any of these in their head and enhance their style. Here the model has a golden highlighted, medium ivy league haircut with a clean-shaven face.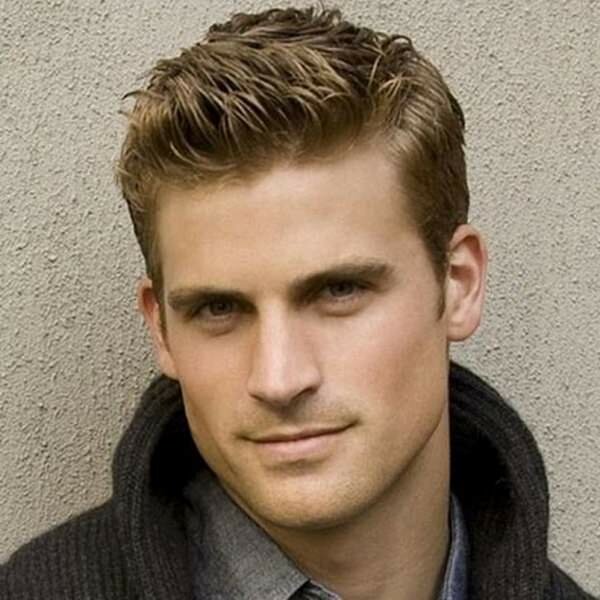 Ivy Haircut with Beautiful Eyes
The combination of a great hair and beautiful haircut is always overwhelming and eye appealing. We can use the hair colours in our head according to our eye colours too. It's still good to have a right eye-hair colour combination. Above, we have a model having a pair of beautiful. Adding to the hairstyle is a finely trimmed beard.





Long hair And Short Thick Beard
The combination of long hair and short beard is very pleasing to look and wear respectively. We can use different length combinations until we find our best one. Here, the model has a long com over ivy with a short but thick beard.
Long Ivy League Haircut
Contradicting the basic definition of these ivy hairstyles, we can keep them long according to our need. Long hairs are smooth to colour and look elegant after styling. Below, we are using fade to prevent the large volume of hair in our head. Similarly, we have a finely trimmed beard to compliment with this hairstyle.
Front Let Down Ivy
The hairdo is another smooth hairstyle we can wear. We keep the top part of the hair long, and then we let it flow towards the nose through the forehead. This style is ideal for those people with a broad forehead, and want to hide it.


Long Ivy With Lining

Linings are most used add-ons we use in our head. They are easily noticeable and are stylish and evergreen. We can also draw patterns like stars and other structures to enhance the haircut too. If we wear a fade, then we have a perfect lining. Along with the hair linings we can also use neck tattoos and piercings to pair up with these haircuts.
Daniel Craig
Daniel Craig is the sixth different actor to play the role of famous detective of all time James Bond. Well, he is the Bond known to the kids today. However, is he less appealing than the other five? Definitely not. Supporting his unusual looks and undeniable aura of great personality is his ivy league haircut. We mostly visualise Mr.Bond in his formal suits. So we can conclude that this style works perfectly well with formal clothing. Having said that it doesn't mean that the technique is not for informal ones as we can see Daniel Craig himself wearing it in his latest blockbuster alongside 'Channing Tatum' in 'Logan Lucky'.






Liam James Payne
The former one direction band member and a successful music composer, Liam got no chill when it comes to looking stylish and sexy. From'Glad you Came' to 'Perfect' he had one hell of a successful music career. Behind the boy's success was their elegant attire with which they use to perform in the stage. Liam is wearing a medium top comb-over with a sparse beard to pair up with his haircut.


Liam Hemsworth

With hit movies like 'The Last Song', Liam has proved his worth in the field of acting. Like his brother our own Thor Ragnork Chris, Liam is also known for his style and unmissable sex appeal when it comes to the real world too. Alongside many other celebrities, he is also an ivy league hairstyle wearing man. Here he has a top rough Ivy with a freshly trimmed beard and a suit.

 Leonardo Wilhelm DiCaprio

A man with the versatility of a magician, Leonardo DiCaprio is an acting genius. With many hit movies and a couple of Oscars in his bag, this guy got no chill when it comes to looking stylish and up to date. Supporting his career and his personality is the ivy league haircut which he had in the Titanic(Longer) and also in the 'Wolf of the wall street'. So trust DiCaprio go to the barber and ask for this amazing haircut.
Will Smith
Weather in the ' Pursuit of happiness' or becoming the ' Bad Boys' and with his film saving acting as 'Deadshot' in the suicide squad. We all know and love Will Smith. Along with acting many people follow Will for his style and motivating personality. Here, he has worn an ivy league hairdo with the classic Will beard straight from' Men in Black'.





Matt Damon


In the box office hit 'The Bourne Legacy' or his latest space adventure movie'The Martian' Matt Damon is a respected actor. Here he is wearing an ivy with a pointed top. Complementing his style is his smile and a clean-shaven face.

 If something is famous or something is trusted by everyone you don't question it, you try that yourself. The same goes for the ivy league haircut. We can find it comfortable to wear and to manage too. A healthy hair is a must for finishing any hairstyle and giving it perfection. So, just wear the style and make them yours with care.
Leonardo DiCaprio, Will Smith, Liam, Ryan, Zayn along with Mr.Bond himself have worn this style with comfort and smile. So, why be different? But things might be better with modifications. Piercings, Hair colours, Tattoos, ornaments and different add-ons you have the freedom to use all these with the Ivy. So, try to look your best every day with the ivy league haircut.