Buzz cut is considered as a style of more sexier men rather than those with long hairs. This style of hair came around somewhere in the 19th century and still is in a hot shape around the salons. Well, those ladies out there surely won't hesitate a move if someone adapts this style of hair. Butch cut, crew cut, flat top and ivy league are some of its style branches. The hairstyle adapts machine trimmer starting from the back of the head including those sides too. Buzz cuts can make one's face more open and explainable to the viewer. It's an easily maintain kind of hairstyle so it may be more adaptive to those boys and men out there who wants an easy maintenance and care for hair. Buzz cuts can also be handy for those who've got a hair thinning problem or a lessened hair.
Buzz cuts are mostly shaped in the militaries field and are more popular on that side. So it kind of gives you a militant look for you also. Possibly, buzz cut maybe the shortest form of hairstyle with exception to hair shaving. It gives you the coolest look possible in town for every occasion and festive. Well, a good thing is, it matches out with every form of men wardrobe. It surely is a sexier look for men as told. Another plus point is, any type of hair can be transformed into a buzz cut. This indeed is a faster way of hairstyling for men that want a sustainable attention.
However, hair can be modified into various buzz cut styles that are listed below. Occasionally this stylish hair can be adopted for various ceremonies, festive etc.
1.Gangsta style


You would literally flat some of them out there with this buzz cut hairstyle. It gives you some serious look that can draw anybody's attention at your place. That straight cut on the forehead is one of a pleasing style that goes out great with a perfect fancy item on your body. People in the town would love this style and may even ask the salon and designer you go to. Its just perfect and just gives you that," I'm gonna bust you" kinda look so nobody just messes with you. As shown above, the guys in the picture have got some real deal for their haircuts. This style also matches out with some beard if you and your designer have some ideas.
2.The Neat curl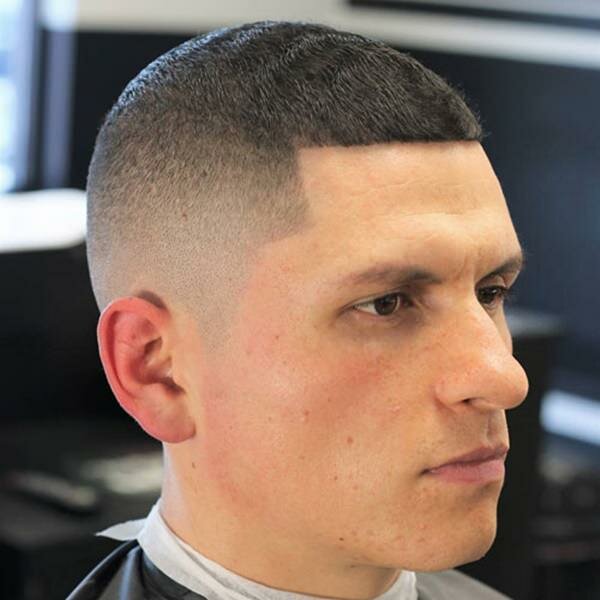 Well, those ones out there with some curly hair should be more than happier after seeing this style. Guess what? Curly is a new trend now. If you are irritated with your curly long hair, then with a suitable shape of a face this buzz cut hairstyle should be an absolute choice for you guys out there. Long curly hair guys always are found complaining about the problems they face about the thickness and stuck hair in there. So this maybe real catchy for you guys and also care to choose a perfect buzz cut style for you and for what your face matches. Now you just don't have to worry about those friends making fun of your curly, stuck hair. Just cut it short and have an answer for them!
3.The mustache assister
Buzz-cuts can be a great helper addition to people who love beards and all. If you love beards and mustaches, buzz cuts hairstyles should be a great idea with it. It gives you that sexy partying look you've been searching for yourself for a lot of time or a damn serious and classic look. Also is great with those suits and all if your weekend is going to be,"John Wick" and all. Beards and buzz cuts are like a complete love story if imagined like a fairytale. One just suits another in every trendy clothes you are going to wear. Someone in the crowd should really be curious about where you get that haircut and ask for a reference for sure. Make sure you have the perfect wardrobe for your hairstyle and you are great to go!
4. Short and cute Buzz Cut Fade

Buzzcut hairstyle makes you look cute and cooler in any time of the season. Those guys out there with a cute face should definitely try this haircut once in a life and not regret. Small haircuts are always supposed to be attracting.  It surely will match with that," Winnie the Pooh" cute look of yours and also will flat some females out there at the same time. Shorthairs have always an advantage on anything rather than long ones. This hairstyle will make you cuter which you surely will not regret when you go out there.
5. Side short With Fade


Applying more trimmer to the sides of your hair gives you that manly look that any other hairstyle does. Gives you that real buzz cut look. And also does great with a nice line of a beard if you have it. Having a great short shape at those sides can be attracting and flawless at the same time. This buzz cut is for those guys who are ready to gain some serious iconic look. Just tell your hair stylist to do this to your hair and you will be happier with the style when you look into that clean mirror. Just don't faint yourself out of excitement though!
6.The superstar

Now, we all want that superstar hairstyle that someone out there has maintained. Buzzcut surely will give that feeling and free you of your hair fears that you have and make you look more comfortable. We all once in our life has surely tried to trim and maintain one of our idol or an actor's hair. Well, if you guys out there succeeded on that, that's a great achievement. You should almost have that celebrity feeling in your eyes when you get this special buzz cut haircut. In my opinion, just don't ruin your look getting a certain celebrity's haircut if you don't suit it. Its just gonna make it worse. Go for whats right and suitable for you!
7. Great cut


Who doesn't loves a nicely cut hair that makes you smile more than a lover on Valentine's day? Buzz cuts with slope trimming/cutting at the sides with some short and suitable hair at the top will make you a man to look out for. A clean-cut presents you with a cleaner personality and makes you more respectable. You would be looking fresh and handsome all day along with these type of buzz cuts hairstyles. This style just needs a little long hair at the top so you better take care about that or tell you hair designer to do something about it. It just looks a bit fancier if you have some hair at the top of your head for this style.
8.The perfect slope Fade

A perfect side slope trimming can give your buzz cut a shiny look for your hairstyle. Shortened at the top but still, shaved-like trimming at the sides can be a real deal for your hair. Slope gives you that extra flavor for your hair and makes your hair more fashionable. A neat slope cut makes you more bright and open for your daily work. Slope cut can match with anything you keep on the top side of your hair. You keep it long or short on the top, slopes are just gonna roll with it. They just make your hair a lot stylish and better.
9.The professional trim


A professional buzz cut hairstyle gives you a fine classy look. It can explain everything about your personality and humor. This fine haircut can drive everyone's eyes anywhere you have your presence. Guys having a buzz cut hairstyle are meant to have a greater sense of humor than everyone else. And ladies love those guys with a better sense of humor. This also works great for guys working at office hours and all, it makes it easier for your hair to maintain and saves a lot of time. Also, buzz cuts give you that extra professional look that may impress your boss too. Who knows? Maybe you will get a promotion because of your hair.
10.The messy short

Anybody with a short hair would be fine with a messy look. A messed up hair can be a lot trendy, well only if you mess it up nicely. Sometimes you just have to go for a buzz cut hair with that unmanaged and messy look. As it is said the more the hair looks messy the more stylish and sexier it looks. you don't need to work hard a lot for this look, you just leave the hair as it is and it will just style itself or just rub it as you wish and style. So, guys out there who just don't want to style their hair professionally, they can just make someone rub their head and gain a hairstyle!
11. Fresh cut With Beard

This one over hair contains a package of fresh and cooler looks for your hair. Machine trimmed, starting right from the front-side of your head through the back to the other front-side. The above image shows you how perfectly it is cut leaving the top side scissor trimmed and the sides machine trimmed. The hairstylist makes it look more perfect by adding a slight connection of the hairstyle to the beard. Though the sides will be growing soon decreasing the quality of hairstyle you can just maintain your hair as soon as you know you have the perfect time for your hair.
12. Carer

We obviously have talked before about buzz cut hairstyle being as a comfort for hair thinning and lessening the problem. Well, this surely doesn't cure this but this may help on the breakdown of hair. Buzzcut style really is a peace of mind for those who have, 'M' pattern and other hair problems. It really helps a lot if you also have hair problems regarding genes. Short hair reduces hair fall and also promotes new hair to pop out in your head. As I said already this may not be the cure for your hair but it surely will help in some way. And who knows, with a better luck you may have some new grass coming out on your field at some time.
13. Hot and saucy



Everybody out there wants to be hot as hell, but not everyone can adapt the idea for a proper cut hairstyle. Well, this may be a relief for some of you out there. Having this type of looks is a perfect scenario for doing a buzz cuts hairstyles. You may have all the hair trimmed in the same length as it fits or maybe have a great slope on the sides or maybe just simply cut it short as shown in the photos above. Short hair never goes out of style and never looks old. But what you have to consider is that you just need to find a perfect cut whether it is the one side slope, or a more baldy or anything that suits you.
14. The cadet style


People in militaries are really fond of buzz cut haircuts. This type of haircut really eases them at every training and other stuff. And of course, we people can also have that to ease something for our hair. Now this buzz cut here, it may be the easiest to maintain kind of hairstyle. You just take a trimmer and start with it. People in militaries mostly take this choice because it may make them easier to deal with everyday purposes. Some even have this hairstyle for avoiding lice. So, this is an easily maintain hair for real if you are really lazy and want some wind up there in your head like guys like these on the photos, I suppose you have a green signal for this style.
15. Sporty look



We all love that crazy small buzz cut sports hair. Well, in reality, some of us may even have tried to shape this hairstyle in our own. Forget those old sweaty hair days which bothers you every day and just go with the short and easy haircut which gives you a sporty look for sure. So if you are soccer, baseball etc player reading this article, just go with this look and it will just make you more comfortable and more active. Long hairs do make you look stylish in sports but they may be an obstacle for you sometimes. So go buzz cut and have a great game. The picture above explains everything about a sporty look and its benefits.
16. The equalizer

The specialty of this buzz cut is, every side of the hair is trimmed into small but at equal size. Well, for surely this style is for those guys out there who don't want to try their luck at those slope and side cuts. Since every part of the hair is equally done, it should be easy to maintain and re-trim again. well, talking about the photos above, just look at those guys! They have a great line of a haircut and have obtained a touchy look. Its okay if you want a more bald type look or a simple buzz cut to go with your beard and mustache. It makes you look more positive thinker and after you get this haircut you will just look damn right in hair shape. Get ready for some compliments guys!
17. Neat as water
Some of us guys when we do buzz cuts hairstyles, we just trim our hair. But some of us may be a real deal on the maintenance of the hair. Clean cuts are really necessary if we are attending some ceremonies, parties, seminars, or wedding. It widely opens your face bright and makes you look more handsome on that outfit you are going to wear. The guys in the photo above have a right and clean haircut for themselves. You may just go for a line through the side of your hair as shown in the third photo or have a great slope with some long hair at the top like in the fourth photo.
18. Men's Buzz Cut With Color!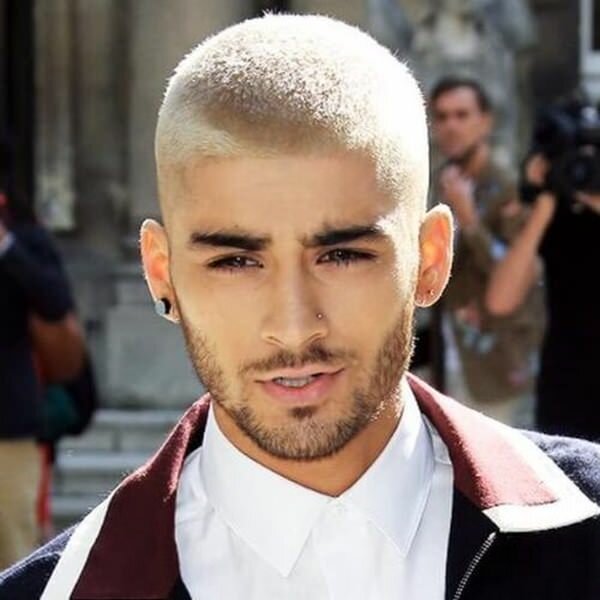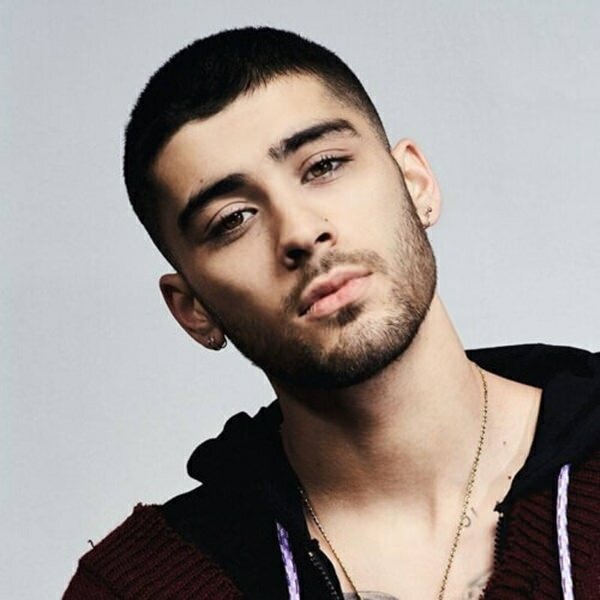 Coloring your hair helps you to blend in the type of environment you are in, whether its a carnival, soccer match or anything else. Long hairs basically require a lot of colors but if you choose a buzz cut it may save you some dollars for sure. Coloring your short hair is an easy thing to do and also takes a short time. Coloring short hair even provides you with a lot of attention in the crowd. You color it black, silver blue or anything available, you will be just the bomb for the squad you present. Though you should consider some cautions choosing hair colors as it may not be fit for you all but at whole short hair are just really fond of colors.
19. Mens Buzz Cut With Beard
Buzz cuts are more supposed to be a manly haircut than any other styles out there. It sells you this manly look that you were always dying for. Women out there are really fond of this macho thing. I bet you are thinking about getting this haircut as you are reading this article right now. Make sure you get the right one for your head so you don't over style. Hairstyles are the most important thing for a man to be attracted by someone. If you need some love in return you have to have that macho look I mentioned before to you. So just don't think about it, pay some dollars to your designer and just go for it.
Some advice
So talking some more about buzz cuts, these type of haircuts should be matched according to the occasions you are attending or the one that you feel suitable. This hairstyle is a fond of actors and army cadets and recruits. Make sure buzz cuts hairstyles are a right choice for you before you jump into it because you cannot undo once it is done.
If you are doing it in your own make sure you have the right pair of trimmers and hair clippers or if you have a designer make sure he has the right ones. Whether you get a butch cut, or a flat top just be sure about the right one for yourself. You don't need a lot of gels and ointments for buzz cuts hairstyles. Since it is short as possible, just have a rub on your head and voila ! You've invented a style. Also make sure your hair remain moisturized and healthy. Have some coconut oil applied on your scalp. Remember,only a healthy scalp can get you an stylish hair. It is a lot cheaper kind of hairstyle which you can do it on your own at home if you have the expertise in the field.

Conclusion
As we discussed earlier, having this hairstyle means more macho and masculine looks for you. Considering the shape of your head, you should decide yourself first whether to trim at the sides or all over the top itself. Cutting yourself should sound like a bad idea for starters so I suggest you ask someone's hand for that or even you can have a hair designer for a more proper and fair cut. Having a buzz cut not only means you have a easy to maintain hair but also you save a lot of cash. It's just a,"I don't need any money" kind of hair that may be just right for you guys out there. It gives you a lot of comforts and also considered a bit healthy for your hair. Just care for your hair and you are all good for this type of hairstyle. Besides these hairstyles above, here are some of other buzz cuts hairstyles that you would want to take a peek. These ones down there also are never out of trend list and should be on your bucket list line by line if you are fond of buzz cuts.