Having its origin in Senegal,  a Senegalese twist is a favorite hairstyle among African women. They are the rope twist is a new trend among braid style. In comparison to box braids or cornrow hairstyles, they are super easy to form. Unlike traditional three-strand plaits, Senegalese twist is formed from two strands.
The fascinating thing about it is they need very less time to form. If you care properly, it may last up to two to three months. You can style it in different pattern due to its versatile nature. That's why here we are bringing you 108 flawless varieties. And we go like this-
Senegalese Twist Crochet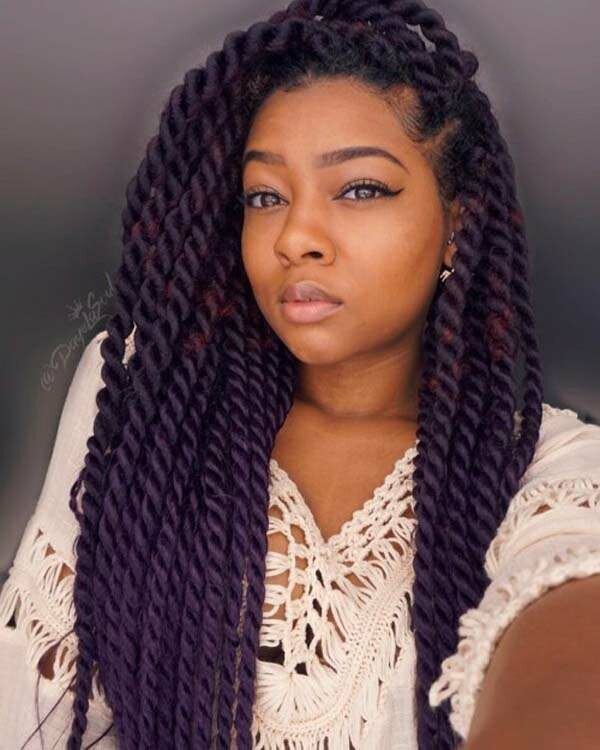 What do you want to say about the above hairdo? Aren't they mesmerizing? I can not believe how anyone can't wait for it. For your convenience, here are the steps. First of all, take two strands. Go on rolling it and form twist continuously.
A Ponytail
A ponytail is always the first choice of many women. That's the reason they combine it with a twist, cornrow hairstyles, or simple braids. Whatever you may say I can't stop loving it.
Rolled
It is your day, my girl. Give yourself some time to care and be stylish. Are you think about which style to prefer this time? If you have no clue, I can better advise you. Have a glance over the above hairdo. You are going to fall for it.
Millon Dollar Smile
How can I constrict say a precious smile by calling it a million dollar? But I mean to say it is very close to my heart. My girl style is not for show off. It is to cherish the moments of your life.
Bob Style
There are many misconceptions such as Senegalese twist do not suit in a short hair. How are you going to believe such a thing even without experimenting? See here, how elegant the girl looks in her style.
Bun
As we all know, creativity is beyond limitation. It is limitless. Here, the hairstylist prefers to create twist first. After that, he/she manage her hair in a bun. That's a pretty cool idea. What do you think about trying this?
Showing Her Teeth
I always love to say ' not only put style but celebrate it thoroughly with yourself.' Life is all about the celebration. Then why not to enjoy it? Revitalize yourself just like the girl showing her teeth.
Half Updo
Higher the number of variations, better are the styles. Yes, a half updo is the best. What are you thinking? Are you in a mood of trying it? So then, take the help of your hairstylist. You will look full of grace and charged with energy.
With Hat
Maybe she is on holiday with her loved ones. Hence she looks refreshing. For this, she divided her hair into the two sections. Taking two strands, she formed a twist. In this way, her style is set. And now, she enjoys her days. Isn't it lovely my girl?
Far from the Crowd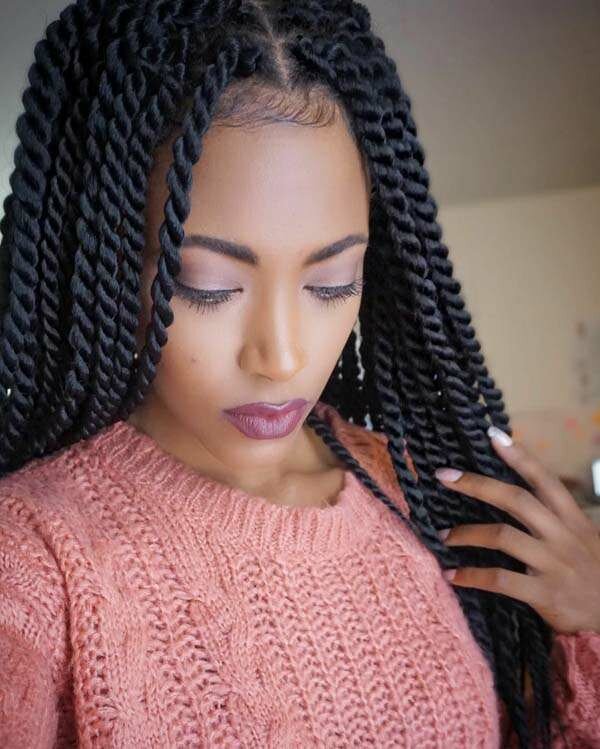 We remain in the hustle bustle of modern city life. Our heart longs to go for far from the crowd where we can find peace. For such a situation, the above hairdo offers you a relaxed feeling making you free from your anxieties, worries, tensions, etc.
Long Hair
Long hairs are alluring. Any style you put on them, they look fabulous. This time we bring you a twisted variety. Are you in a dilemma about how to form it? Here is the way. Take two strands of your hair and then create it.
Thick One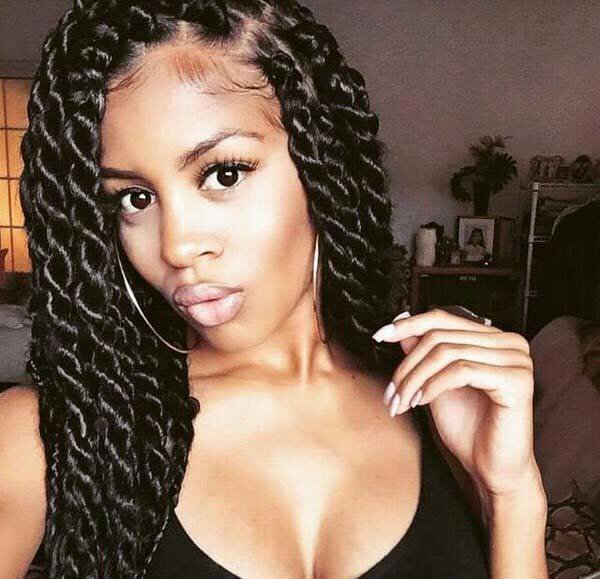 Hold your breath! It may take away your breath. My lord! It is beyond my imagination. How such magnificence exits here? Beauty does not reside on white skin tone. Black girl is equally beautiful. This hairdo proves the same.
Brown Shade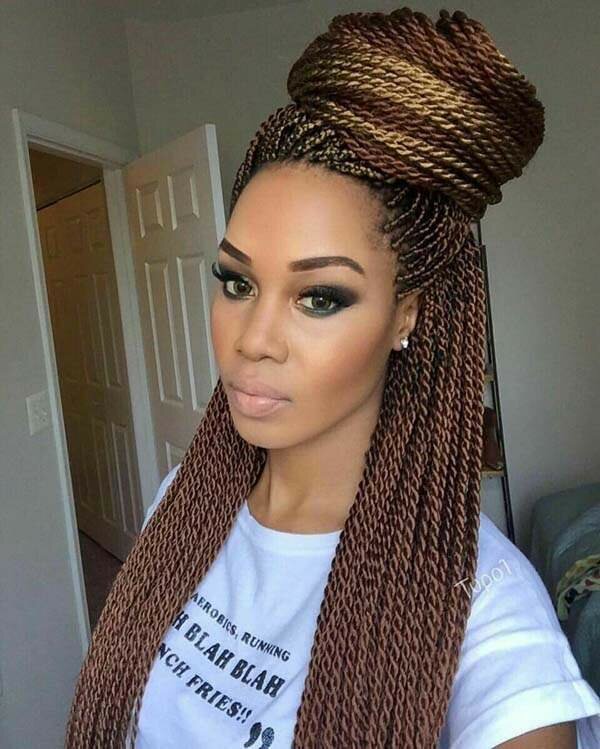 Sometimes life beautifies itself in such a way that we may wonder how can this happen. And same is the case with a brown color. It is beyond explanation. Whatever your complexion may be, it gives you your best look up to date.
Highlights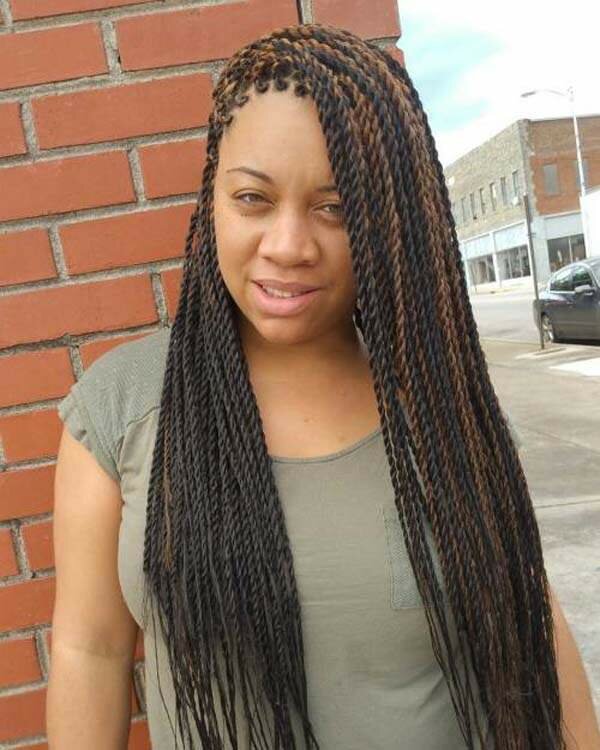 What do you think about trying it? Highlights offer shine to your hair. Amidst the crowd, you are going to be noticed. You have your style.
Lovely Curls
After all, they are curls representing grace and elegance of a woman. First of all, form Senegalese twist. After that, settle your hair in curls. If you find it hard, take help of your hairstylist. Do you like this idea?
Extra Varieties
We are here to present you a different set of style. So. it is for you to choose according to your preference. It gives us great pleasure to provide an extra variety. Hope we have helped you a little bit in your busy schedule of hectic modern-day life.
Medium Senegalese Twist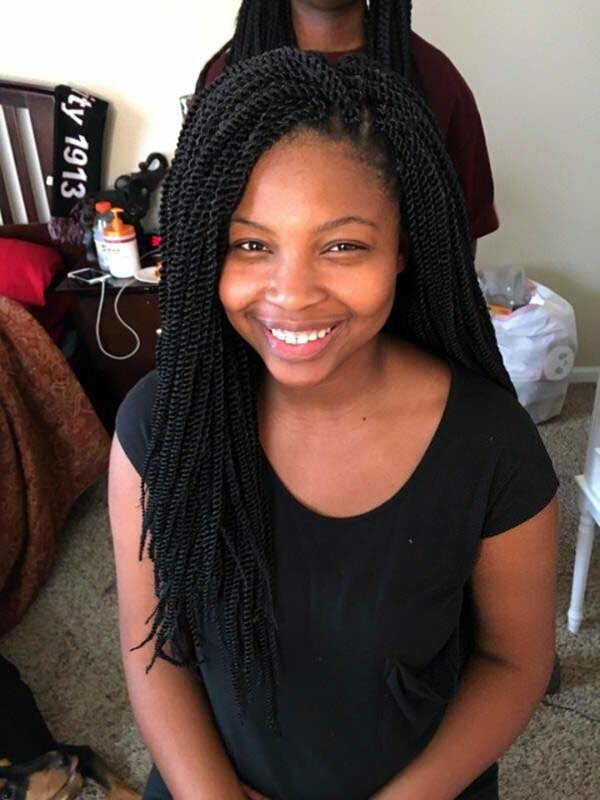 Learn to live! To live does not signify eating food, breathing, etc. Living means to live each moment beautifully, intensely. Let the vibrancy of every moment enthralls within you. And only then you live. So friends why not celebrate next moment with Senegalese twist medium.
Side Style
We have got only this life. Perhaps there may not be another. So live life to the fullest. Have a lot of new experiences. Make it an incredible journey. So, this time why not to have an amazing experience with a side style? If yes, take help of your hairstylist.
Beads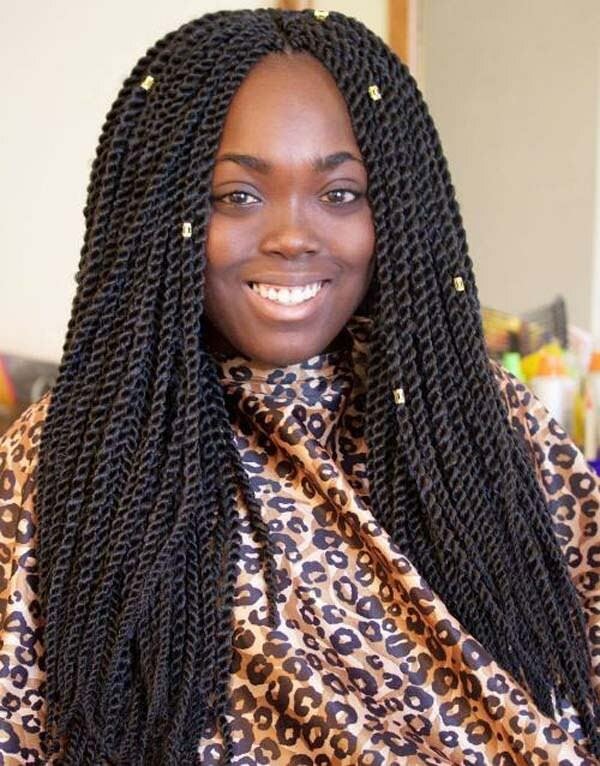 Sometimes you may need the help of hair accessories to give extra style to your hair. In that case, beads may help you. And for this hairdo, make center-partition. Rest of other you know. I need not explain, isn't it?
New Version of Senegalese Twist
Days may pass on and on. But our choice of trying something new never goes out of our mind. In a way, it is nice because it fills life with adventures. If you are intense about trying something new, check out new varieties of Senegalese twist.
Brown-Black Combination in a Senegalese Twist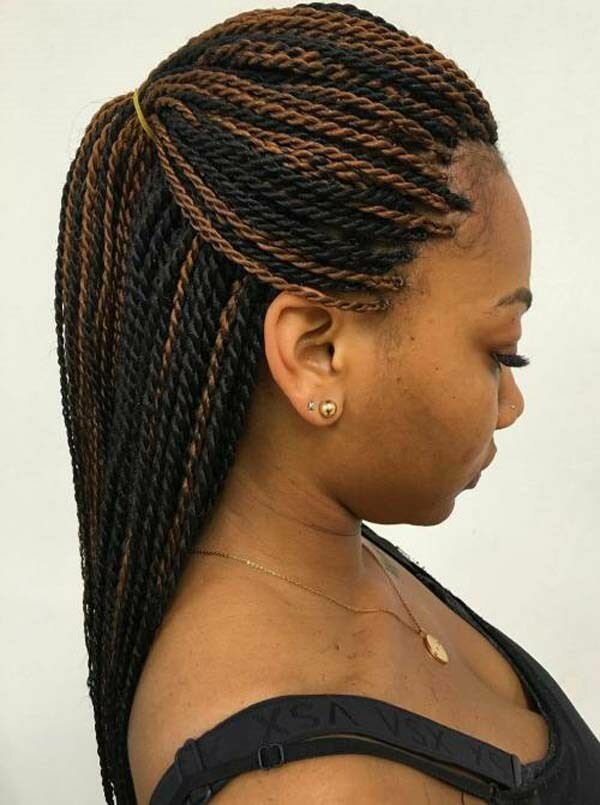 Both black and brown signify natural shade. Maybe that's the reason why everyone looks for them. Mostly, you use either black or brown. But this time, apply shade combining both. We guarantee it suits you perfectly with a super-sexy outlook.
Every day Style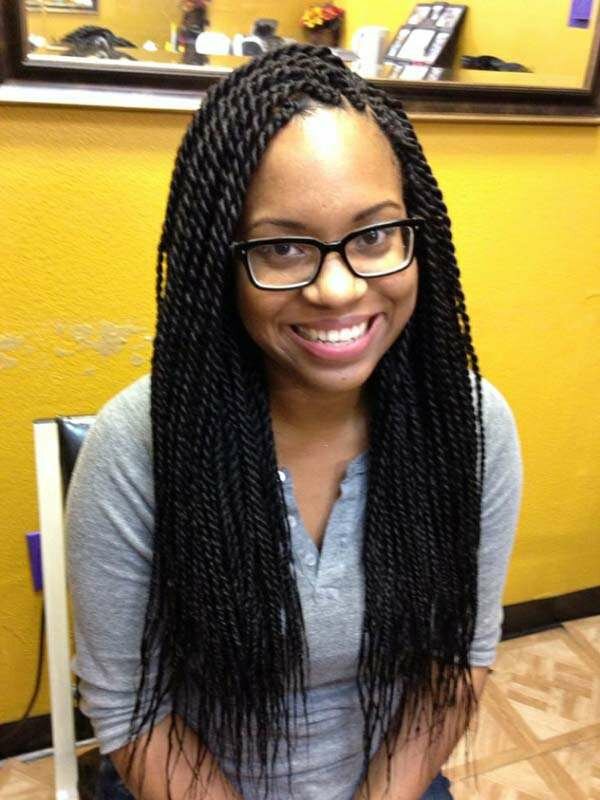 Every day is a new day. And each new day is for us to be pleasant. Maybe she believed in it, so she is smiling. I wish I could catch her smile and keep it with myself forever. No matter. I can smile every moment. You too can with the above style.
Thick Senegalese Twist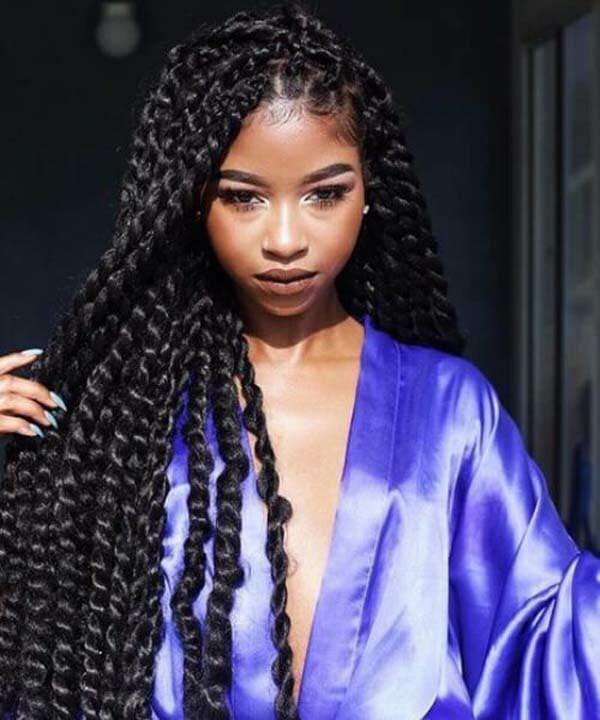 Thick Senegalese twist is useful to make your hair look heavy and voluminous. What you should do is take a thick strand of your hair. Then, start to form a twist. And, your hairstyle is ready. You look superb girl.
Senegalese Twist Styles Updos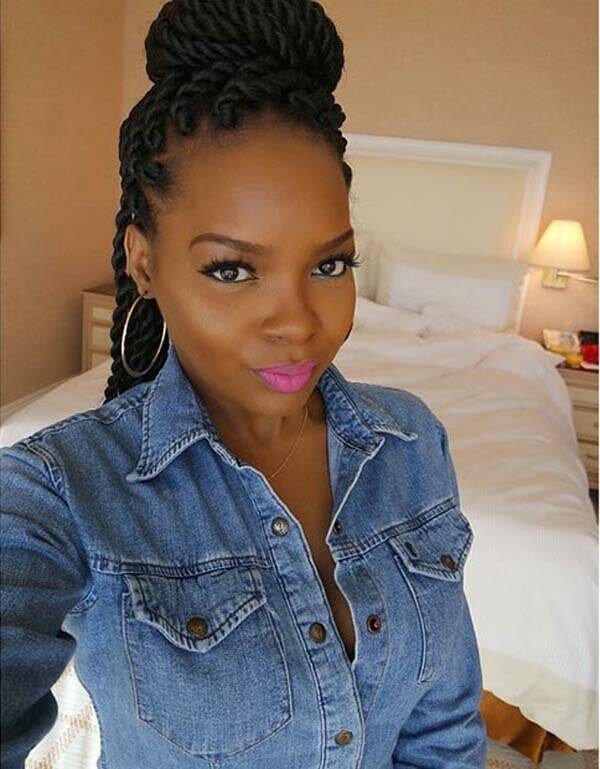 Are you fed of the hot summer season? Does this idea hanker your mind that how you are going to manage your hair? My friends, I have an excellent choice for you. Create a twist in your hair. After that, from bun as above shown. Air will pass through your head and neck this way. Also, you will get relief.
Senegalese Twists Hairstyles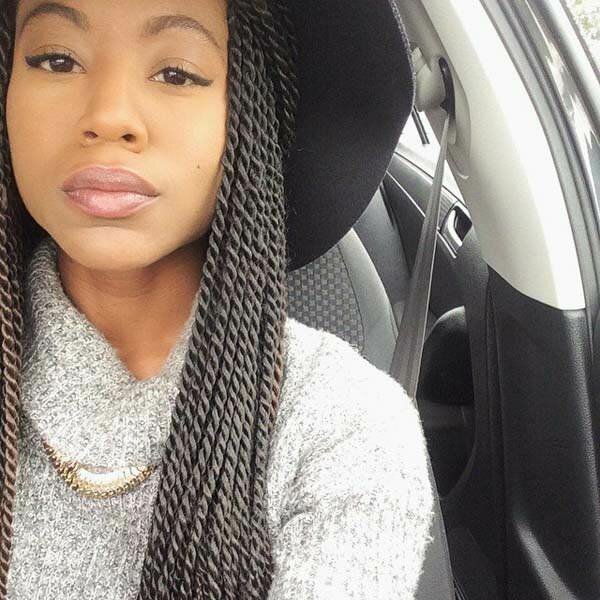 It has become necessary to keep oneself updated with the latest trends. That's why we present you Senegalese twists hairstyles. Take a view once. Perhaps you may like it. If not, then also we bring some other varieties next time.
Half High Bun
Our heart sometimes lies midway. Like it aspires for a leaving hair as it is and also to make a bun. In such a circumstance, what one should do? Are you in confusion? Better be not. You can create a half high bun.
Chocolate Brown Shade
Chocolate brown shade is alluring. Which may be the style you prefer, but your choice of shade to apply alters your appearance great deal. Do you have any doubts? If it so, check above figure and free yourself.
Hair Extension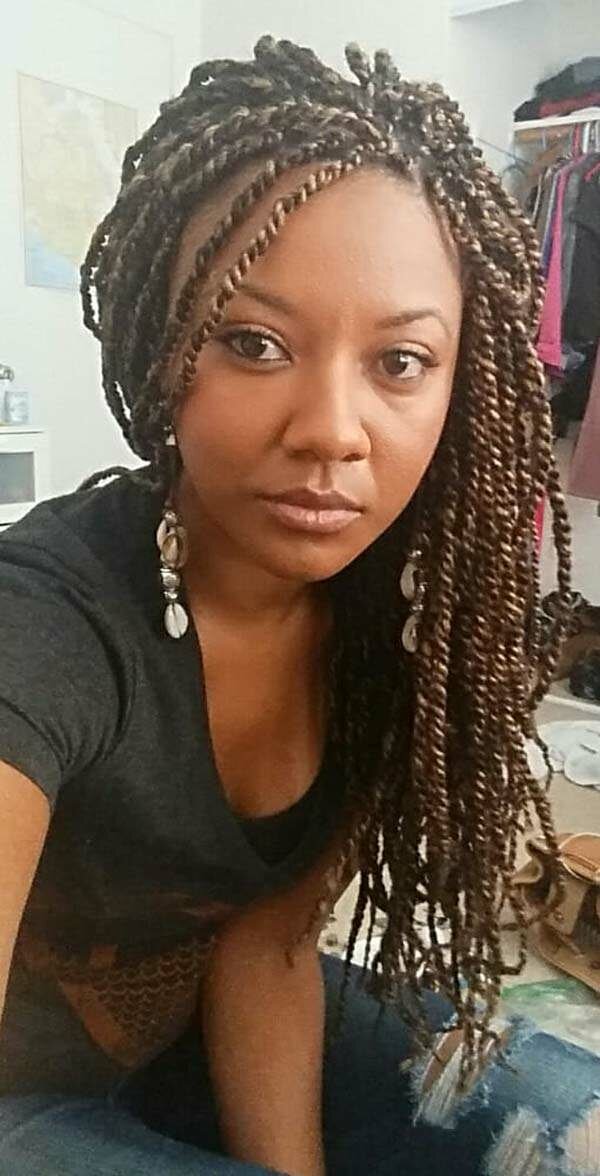 As you use hair extension in cornrow braids, you can try it on Senegalese twist too. My girl, it is fantastic to use it. You may try once.
Dark Senegalese Twist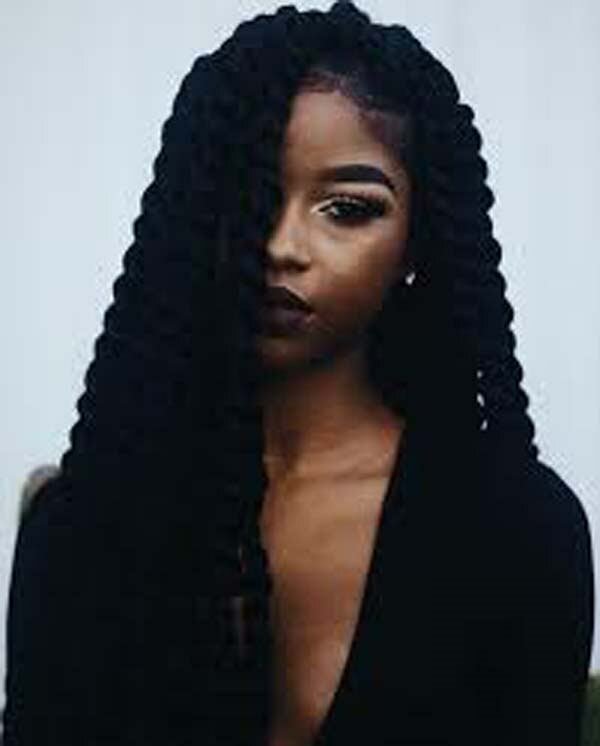 Everyone loves day as it is light. But they hate night as it is dark. The night is also beautiful in its vast depth. Have you ever noticed? If not, see it once. So dark Senegalese twist is also lovely. You can use it once.
Such a Variation
Such a variation! It proves the versatile nature of Senegalese twist as it suits well in short as well as long hair.
Curls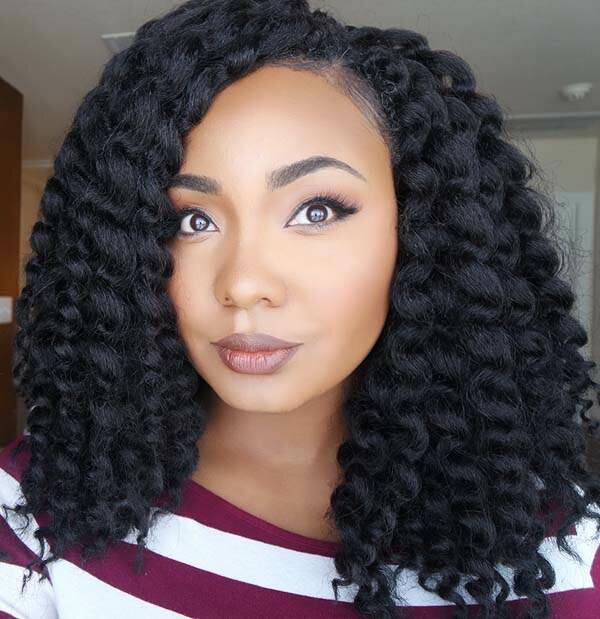 Beauty lies in diversity. That's why people are embracing curs these days. Earlier it was not taken as a decent hairstyle. Wow! What a new invention of Senegalese twist with curls. I am speechless and mesmerized too. Aren't you?
Senegalese Twist
Consider these following points-
Firstly, divide your hair into two parts from a side.
Secondly, take two strands and form a twist.
Finally, you are ready.
Little Waves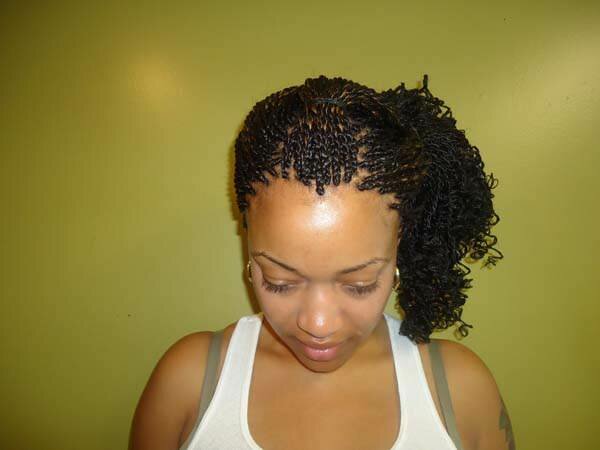 Oh my God! She is full of innocence and separate from the lies and conspiracies of a modern world. Probably none have thought that Senegalese twist can offer such a glimpse. I am shocked. What do you think about it then?
Mongolian Face
Up to now, we know Senegalese twist used by an African woman. So, we have a collective mindset that it may look better only on them but not on others. In reality, it suits others. How can you be judgemental without experiencing it? Have a glance over a Mongolian face.
Vintage Vibe
These are perfect hairstyles giving us a vintage vibe, you know? If you do not know, then try for once.
Unique Style
Each human being is unique in himself and so has to his/her hairstyle. If you favor this sort of ideology, then try once for a unique style. I assure you will not regret at all.
Twisted Knot and A Ponytail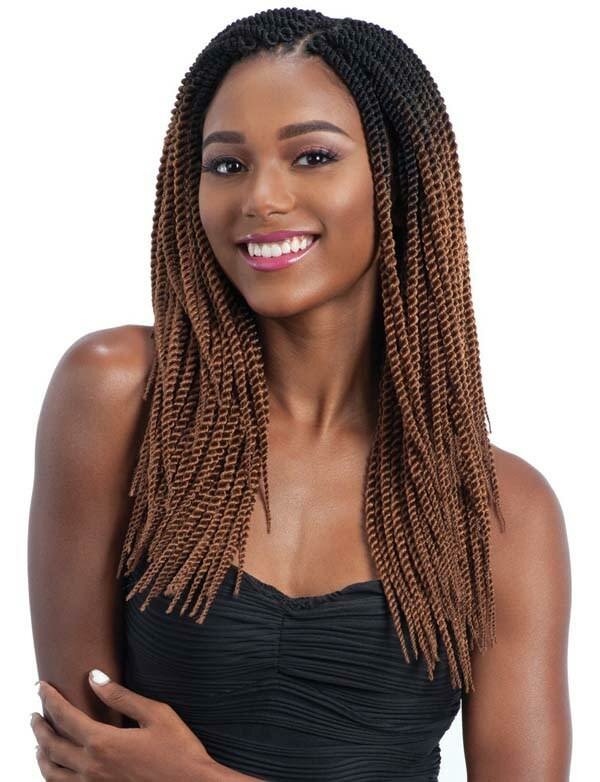 The potentiality of the human mind is limitless, or you can say infinite. As you keenly observe, you see how the hair is rolled, twisted, form knots and finally tied to a ponytail. One needs a fantastic ability to think that much creatively.
Only Joined
Women today gets involved in the corporate sector. So, they have to attend many formal and informal gatherings. It is necessary to change hairdo style in every function to look fresh. Here we offer you an option of joined twist after forming a ponytail.
Simple Bun
A simple bun is women's choice.
Turned to a Side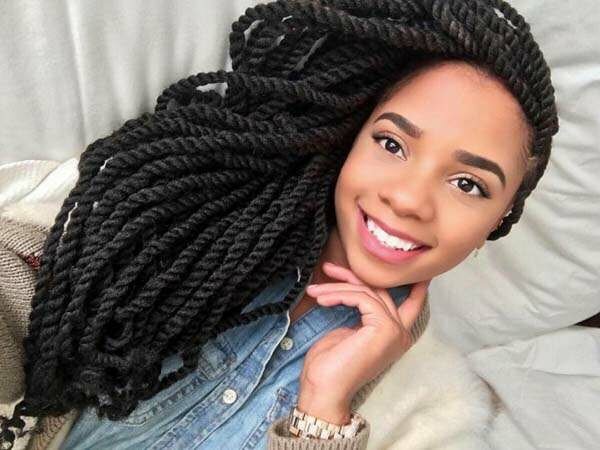 Our concern is much for teenage girls. It is a phase where your heart intends to try something exciting. According to your necessity, we present this hairstyle. Hope you will like it. If not, we promise to bring a better option.
African Woman
As an African woman is extraordinary, so is their hair. But most of us are with the idea that their hair is not suitable for any style. Truly, Box braids, micro braids, cornrow hairstyles suits perfectly to them than any other woman of the whole world. That's their specialty.
Little Waves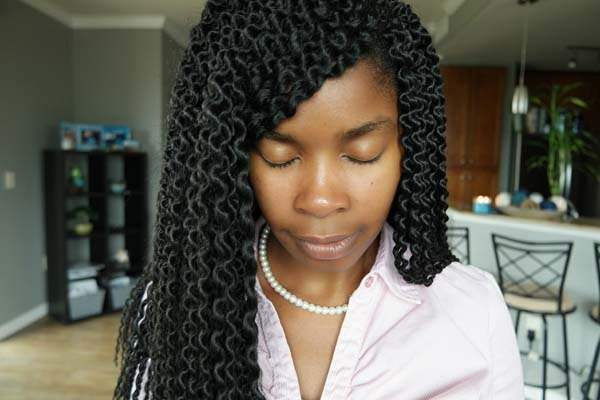 Waves in the ocean! I feel recharged. But every time w may not get chances to see waves whenever we feel low. What if we can't go near waves, but waves can be near us. Are you surprised? The secret is formed little waves in your hair.
Braided Knot
Braided Knot! Aren't you amused by seeing it? I believe you are. But for your consideration, we tell you steps about forming it. After forming Senegalese twist, head towards to form braid continuously to a side. And finally, form knot out of it.
Set Your Style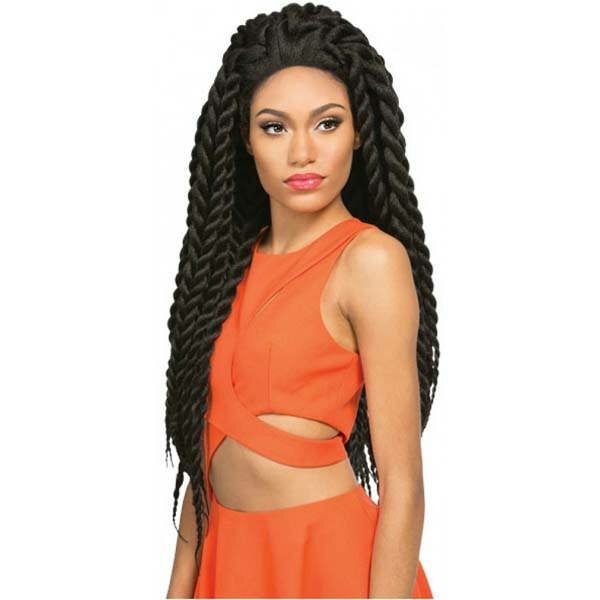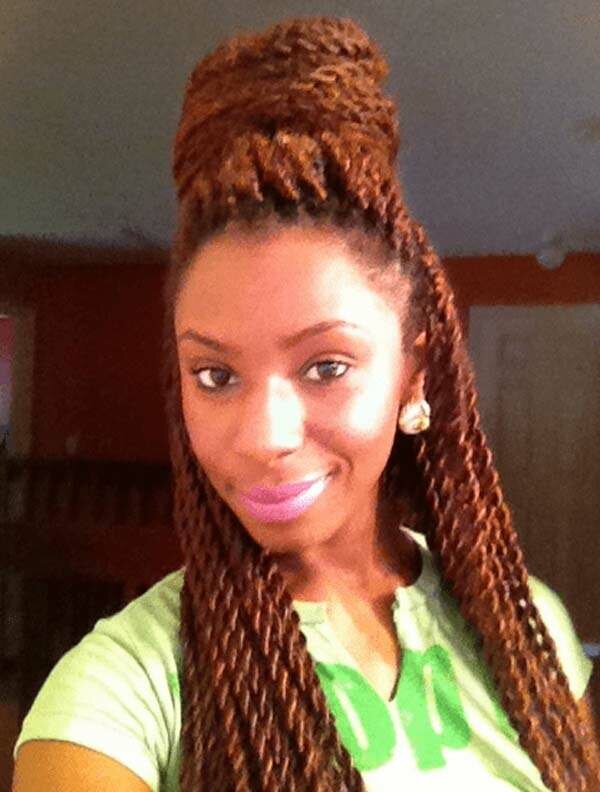 What is a criterion for being a fashion icon? I entirely do not know about this. But what I know is that you have to set your style. For this, you can have glanced over the above figures.
Purple Variation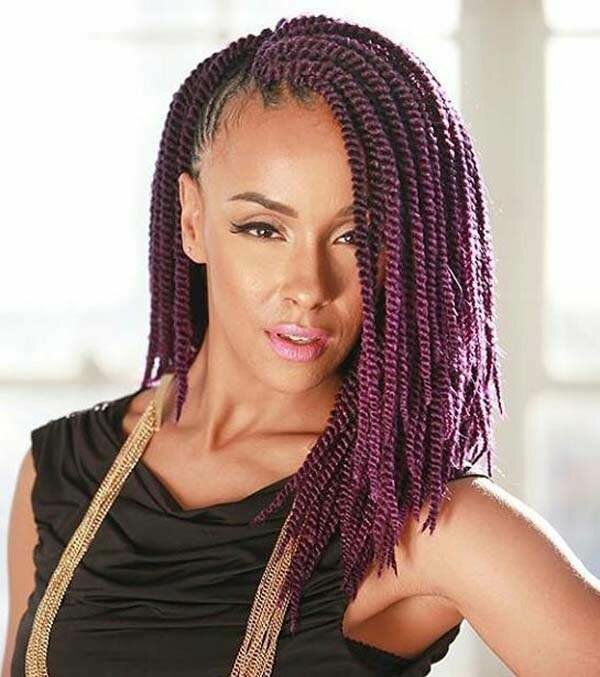 Purple is an amusing color shade. You supply it in your hair and feel yourself free. Many times we restrict ourselves to try something adventurous thinking what people may say. Leave it aside and move on your way.
Senegalese Twist Small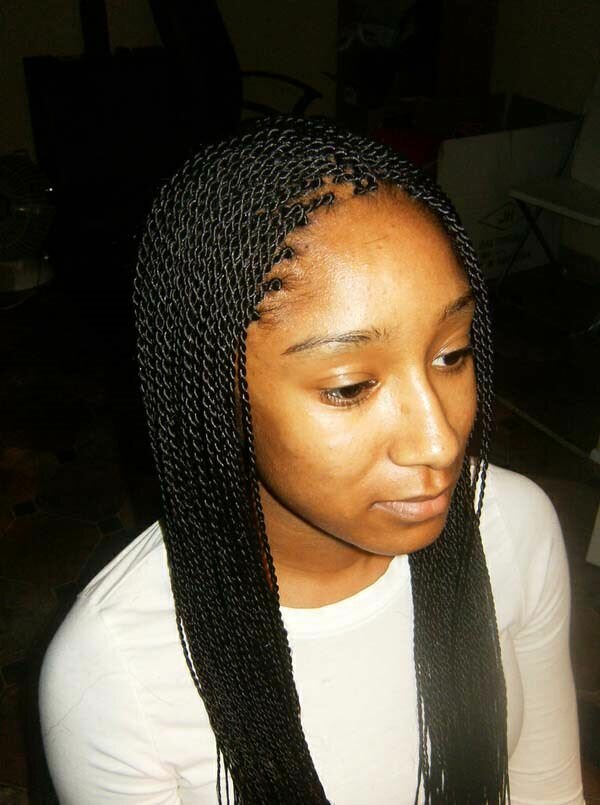 Neither thick nor medium, these hairdo are a perfect example of Senegalese twist small. These little combinations are something which you will never regret all your life. Here, we have two model who offers a lavish look.
Knot Hairstyle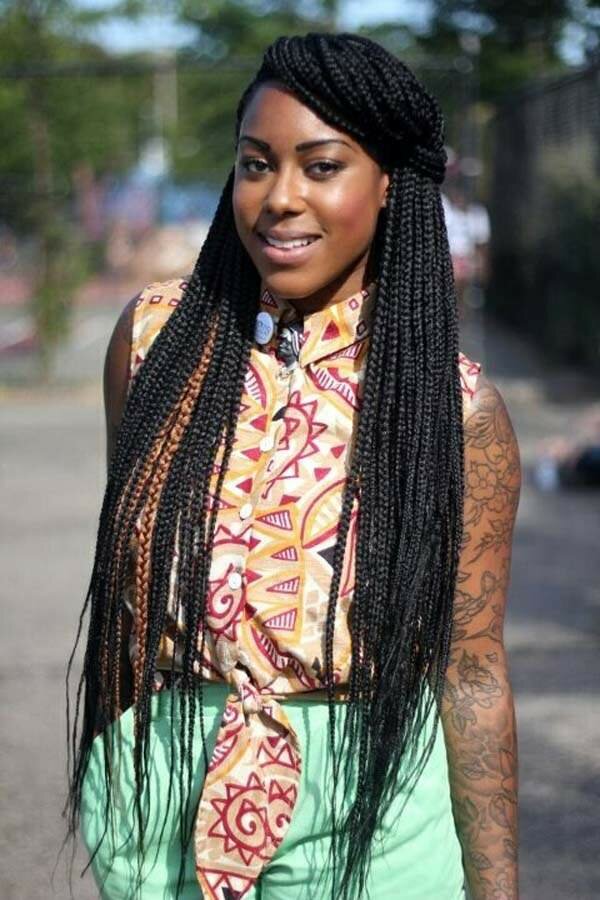 Women are soft, delicate and fragile. Contrary to that, they are bold and brave too. Sometimes you may need a hairstyle which may give you a sophisticated look. My dear companions here is the knot hairstyle for you.
Cornrow Hairstyle
You don't have to manage your hair again and again if you try to from cornrow. Isn't it a great idea for you amongst a hectic schedule?
Enjoying with Nature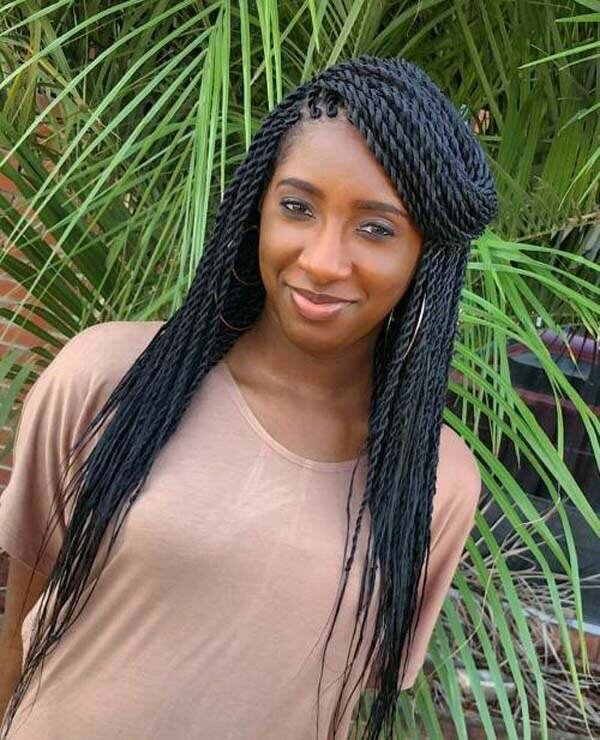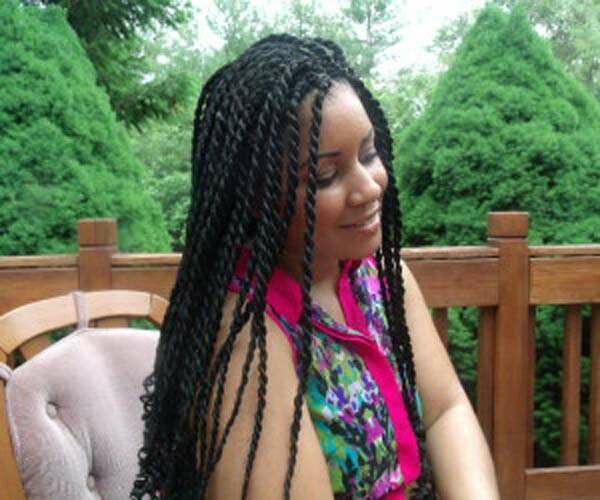 It's fantastic if you relate with mother nature time and often. What should we require is a cool hairstyle. What can be a better option rather than a Senegalese twist? See how the models are rejoicing to be close to nature.
How To Form Senegalese Twist
Senegalese twist is trending among African American women. Here are the steps of forming them-
First of all, prepare your hair. Your hair should be extended. And wash your hair with shampoo. Comb your hair gently and make it smooth.
Apply moisturizer to your hair. You should avoid using oil.
Divide your hair into different sections. Separate particular section into two strands.
Start to form a twist.
Put your hair ends in boiling water.
Then apply Jamaican or castor oil to it.
Do not wash your twists very often. Do it only once a week.
Supply some oil to it.
Honey Brown
As it tastes good, honey is an excellent color tint. It offers such a grace that people may notice you on the way. For a good reason, it throwbacks positive aura around so we can feel better.
Magnificent Look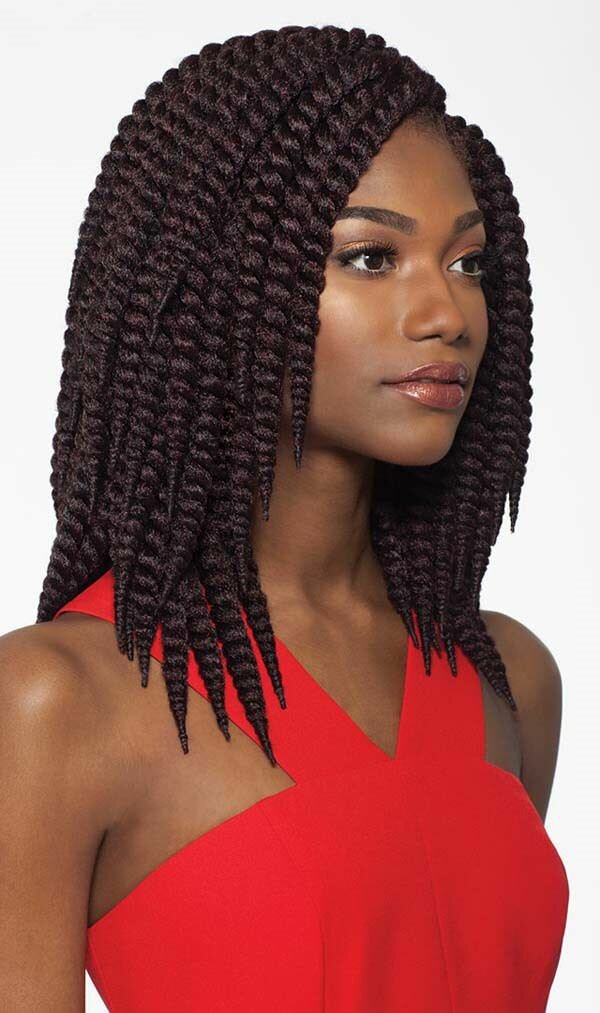 Senegalese version is trending these days and becoming much popular among the African community due to its versatile nature. Take this figure here; the hair is in a layer cut. Within that length, jumbo twist are formed. Watch it once if you prefer twist like that or not.
Senegalese Twists Braids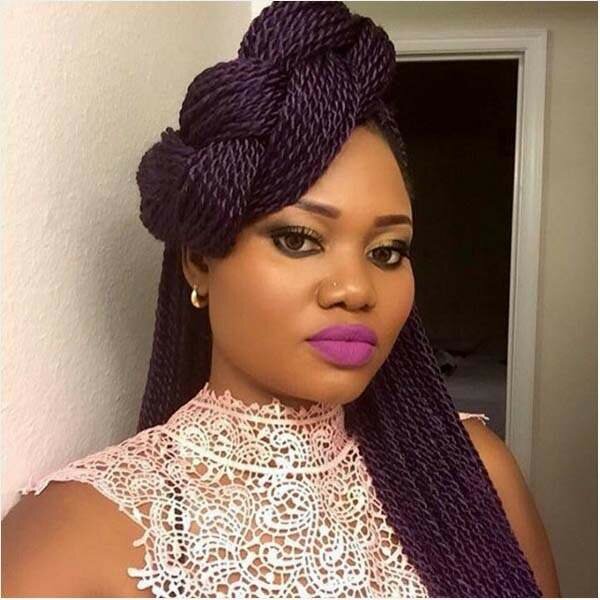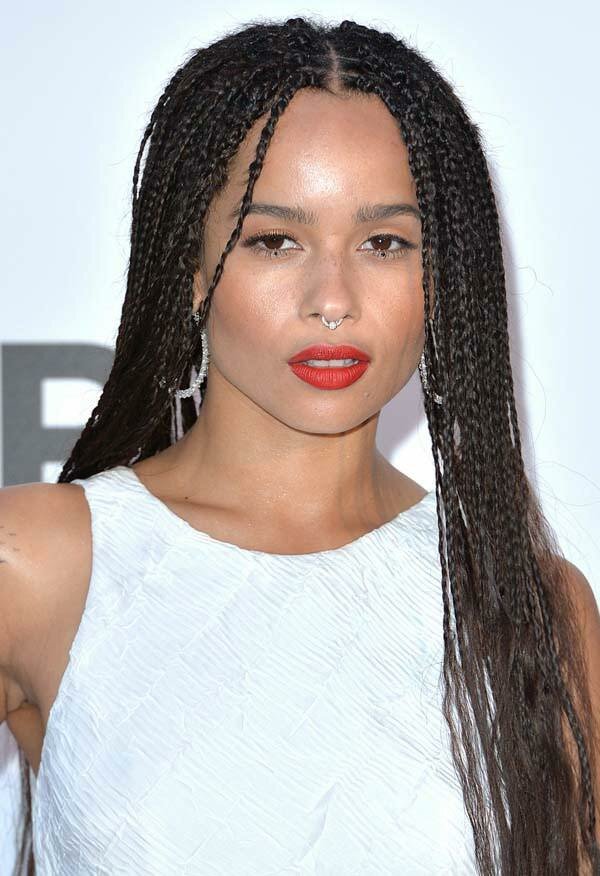 It may demand hours for you to form a Senegalese twist, but it will last a month or more time. If we see in this way, it saves your time and effort. You need not worry about caring for your hair.
Round Bun and varieties
These are stunning looks which you can try according to your preference. For forming round bun, it may demand your more time as the locks are tiny. While in other varieties, locks are of medium size. So, it may be time-saving.
Green Tint and Other Shade

As we know, here locks range from jumbo to tiny. Medium one also lies here. Green and another color can look astonishing in a Senegalese twist. These styles give a fantastic look as hair is in an excellent touch-up.
Jumbo Twist
In comparison to another twist, jumbo need not much time, and you can wrap up your hair soon. The look is mesmerizing, and one's eyes remain open wide with this hairdo.
Platinum Blonde
Platinum blonde is flourishing these days because of its shining effect. And when tried on a twist, it is beyond description.
Double Front Updo
Dear companions, this is a double front updo. Please do not be in any confusion. First of all, form jumbo locks. After that, take front section hair and from updo as you see.
Formal Style


We discussed Senegalese twist varieties. But it is a separate one from others. Because we can use it on a day to day basis.
Her Style

Our friends may inform us at a very last minute that they plan an outing? We can prepare ourselves for such a situation. And how are we going to do that? Form twist so that you can try any style in it.
Voluminous Curls
Is it that your hair does not have much volume? We have a solution to your every problem. And that is to create large Senegalese curls. You can go to an expert stylist for this.
Her Smile

Well, a smile on the perfectly styled hair can give its actual glow and charm. The first image is in a knotted braid with very tiny plaits. You can call the second one as a complicated style. And the final one does not need its identification.
Senegalese Twist Hair

These hairstyles are perfect for settling in summer so one can feel cool always.
A Variation
Relying on right twist can turn entire process of forming it into a short time. After the procedure, develop a high ponytail.
Beautiful Braids

Check out these beautiful braids. If you are not going to check it once, you may regret later.
Tiny Twists
I am speechless how am I going to describe it within certain words. Look at the beautiful appearance it gives.
Low Ponytail
Days are lovely so is the weather. So, why not to make it extra special with a low ponytail? Tie your formed twists in a low ponytail. That's all. Isn't super easy? It does not require much time. So it is adorable.
Black Bun
Do your heart intends to try for a surprising hairdo? If it is so, we offer you a suggestion to try which hairstyle. You can try a high black bun.
What you call that life if it is not full of adventure! It turns to mundane. Instead, make it a thrill. And how are you going to do this? Form Senegalese twist. Here we discuss 108 flawless Senegalese twists. Hope these styles are beneficial to you. What views do you have regarding them? Please let us know. Till then have a good time ahead.