Wedding- this word means a lot and the wedding quotes help you realise that. The person that you marry- that is not just a person that you are going to live the rest of your life with- wedding means more than that. It says that you share your soul with them- till the time that you exist and always will be bonded with loyalty, trust and love.
So, whether you are a person looking for the love wedding quotes, or you are looking for the best wedding wishes and such,- you are precisely at the right place. Because below are the best wedding quotes and sayings that will make you brighten up even more for the special day.
The Same Heart
So, let us start our thing with wedding quotes for the bride. Telling this to your special man in the special day definitely reflects how your heart has been feeling this whole time.
Planning The Marriage
Well, this is one of the most motivating marriage quotes, I will have to say. Well, the day just comes once in your day- but it is the same for every day after your wedding, so plan them all as well.
You Can't Live Without
This quote here is the reason that the people tell you to be patient before your marriage. And this quote is also what makes the day more special.
One Day
That one day- someday that everybody yearns for and look forward to from their childhood- this quote says our hearts.
Your Facebook Status
Funny wedding quotes– they are very cute at the same time. The first phrase in this quote is what the wedding is all about.
To Wish Us Good Luck
Well, if you are looking for wedding quotes for the invitation as well, then this is the one for you.
We're Thieves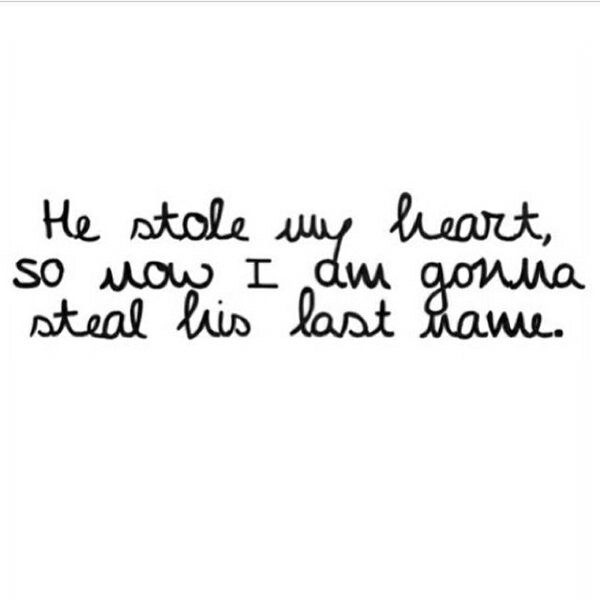 So, the cute girl reading this, did this wedding quote make you smile? I bet it did.
As Soon As Possible
Wedding day- don't you long for it already when your souls have finally connected to be one?
One Flesh
Wedding means being a part of a new family- with you and the one you love. Just another reason for the wedding day to be important.
The Anniversary
The order definitely varies every year like it has been said in this quote. For a given year can be happier or sad as compared to the others- but you two are still together and that is what you have to celebrate.
Happy Anniversary
Well, this quote is how you can wish the person in your heart the next year together since your wedding.
The Longest Sentence
And the short wedding quotes really say a long list of wonderful things. Just like this one. I do- that definitely means a lot to the person saying and hearing it.
You're Not Alone
Well, I guess it could be somehow weird when we say Eminem lines can be turned into wedding quotes. But not once we read the words.
The Genuine Liking

The words from Marilyn Monroe in this one make wedding quotes, friendship quotes and romantic quotes at the same time.
In The Heart
Here is a quote that will increase the happiness of anybody looking forward to the big day. So, you already have married in your hearts, haven't you?
The Moral Things

Love is needed for marriage- all the marriages that happen because of the love that exists between two individuals just like this quote says.
The Wedding Ring
Well, future wives, don't you think that this wedding quote is something that you would want to hear from your husband forever? And for the guys, never forget this.
The Great Marriage
Now, there goes the quote that describes the true meaning of marriage. The words really did make a lot of sense when they said imperfect people learn to enjoy their differences.
Successful Marriage

So, you already have made sure that the day after your wedding your relationship is really going to last forever. Then, good for you because you are going to fall in love a many times after this.
Without You
Well, how do you think that your special one will respond if you whisper this quote into their ears on the day of your wedding? Perfect words for a perfect scenario, don't you think?
The Life Like A Song
Yes, this must exactly be what your heart sings on your wedding day. These are the words that you will be familiar with on a special day, don't worry.
The Better Reality
The romantic quotes really dignify the wedding. And after you are married, then I will have to say you will never want to sleep at all.
 The Vein That Connects To The Heart
Now, this wedding quote tells a fact. I seriously didn't know about it. Humans definitely have great reasoning for everything, don't you think?
Re-Arranging My Mind
Well, here are wedding quotes for the groom as well. If you want to include this line in your wedding speech, then go on dude, I got you.
With The Heart
This quote is what you will realise in the day. For you know, you are set to feel everything that is going to happen on that day- with your heart, of course.
Conquer The World

Well, now after your marriage, you definitely will have this quote come to life. Anyway, when you are holding the other hand, you have already conquered the world.
Once In A While
Fairy tales- they are really fun to read- and you get yourself in the plot of one in the day you have been blessed with. Just be sure you are going to live happily ever after.
Marriage Cards
So, here is another wedding invitation idea for you. Many people want to keep it simple and nice, and if you are one of them, then go on with this one.
The Wedding Wish

Wedding quotes and wishes that make the people remember the power of love- anybody would like to read all of the words when you send them this.
On The Wedding Day

Well, here is one of the best wedding wishes that we found on the internet. Every word written in it feel so heartfelt and yes, if you want, then you could also modify it.
The Poetic Wish
Getting a little poetic in the wedding wishes can also be considered if you really want your wish to stand out from the others. Well, you see- just like on this one.
To Couples
And here are the wedding quotes that you could write on your presents. Wishing them such magical words and gifting them things that you want them to have will mean a lot to the couple.
The Other WhoWe
Well, this is why you marry, don't you? This is the reason that the marriage has been one of the most beautiful phases of the human's lives since the centuries.
To Go Gand In Hand
Well, before the wedding or after the wedding, this quote is equally inspiring to anybody who reads it.
A Quarter Of Century
Now, do you think that you are definitely going to stretch your relationship for 25 years and beyond that? Then congratulations, you are on the path of knowing real love.
Always Be Yours
This is another one of the wedding quotes that will make your day more special. Everything for you to do is send these words to the person that should hear them.
So Lucky

What about reciting this poem to your bride or groom on the day you are going to tie your knot? They are definitely going to listen to all of this.
I Want To Marry Because

Well, did this wedding quote speak your heart out? Your love lets you see a lot of things wonderful than just waking up on the side of the person, and that is the reason you want to marry them.
Love You More
I Love You quotes are also very suitable to be called wedding quotes if you are willing to say them to the one you are going to spend the rest of your life with.
Because I Love
This is exactly how you feel during the day of your wedding. Love is in the air- and you don't need anything else to think about.
Begining and End
Well, this is the only thing that matters. This is what the man wants to tell everybody once they love a girl. Simple as this- you love her and that's all- you've got nothing else to say.
The Eternal Time
Time doesn't let the love die- because it loves it when the people love each other.  If you liked this quote and want more of this, then you can check our time quotes as well.
Always You
You have not chosen them this time- but you made sure that they were the people you would want to spend whatever life you are given.
The Chapter One
So, how do you plan to write your book? Is it going to be the most epic love story that has ever been written? As this quote says, you are your own writer so try your best to make it the greatest love story of all time.
Ride Worthwhile
After all, the love is also a part of this wonderful world. The love is the best companion you two will get when you are riding in this journey by yourselves.
The Dreams At The Night

Well, the dream in this quote is really awesome, don't you think? And I bet this is the dream you are going to have right at night before the wedding.
Faith, Trust And Pixie Dust
I bet you know what Pixie dust means, if not then the next time ask Peter Pan about it. Well, you definitely would want to celebrate on your wedding day- go wild.
The Officiality
Even if proposals are really cute, this quote makes sense at a higher level.
The Person to Annoy
Well, madam, I hate to say this, but you are just looking at the bright side. You also found the person that is going to annoy you for the rest of their lives. So, all is well.
The Prayer
I will give you an idea. Why not hold your hands together and recite cute marriage prayers like this together on your wedding day?
The Power Of Forgiveness
You could check our forgiveness quotes as well. The power to forgive- this is what has kept all the marriages alive. Be sure to remember this from the day of your wedding.
From Your Little Girl

The day of your wedding is also the day you will need to thank your dad for making you what you are today. So, why not send wedding this quote to him?
Still Wants You
I love wedding quotes like these. They remind you how much the person on your front means to you on a special day.
Take And Make
So, you definitely have given a lot of love and found every single bit of it in return. Well, if not, how could you even finally make to the day of your wedding?
Love
Well, here is another cute wedding quote for you. You obviously have found all of the things that this quote points out to be absolutely true.
More Than Enough

Well, this quote is the reason that people celebrate their marriage as they have found everything in the world. And actually, all of them are right to do so.
Never Doubt
Romantic quotes– and when they are this poetic, they become perfectly what you will need to sing to your fiancee at your wedding. This will give them quite the thrills.
Two Is Us
Now, here is a classic wedding quote. It has been true all this time and still will be until we take our last breath.
To Live In Peace
People marry to be at peace and happiness for the rest of their lives. So, this quote is some sort of friendly advice to the people getting married.
The Details

I leave yourself to relate to this quote for the day of your wedding. And when you know what I mean, you will need to congratulate yourself.
The Love

This quote is apparently what has happened with love regarding your life as well. Well, come on, besides all the odds, the love finally bonded you two, and now you are going to be together for the rest of your lives.
The Wedding Details
Well, this quote is what sums up the life of the people who are about to get married. And if you are one of them too, then you are familiar with this quote as well.
The Troubles

This quote is also funny as well. But you know, this is pretty accurate, anyway, so the troubles are coming, all you can do is have all the fun you can on the day.
The Definition
Funny wedding quotes really are enjoyable to read, don't you think so as well? I do and sorry if I forced you to laugh a little.
What It Requires
So, I hope that this wedding quote will help you as well. The words in this are pretty accurate, for the least.
Your Own Lawn
And here is another one of the motivational quotes that will help you with your marriage life as well. You will just have to understand what it says.
A Wish
Wishes on the wedding quotes- that already show how committed you are in keeping the bond alive for eternity.
The Cocktail
Everybody loves cocktail, don't they? And by the time of your anniversary, you definitely have tasted it a lot, but you still want to have it, so you deserve this quote.
Most Cases
Have a laugh again, brighten up your already happy mood, I mean to say.
The Life With The Best Friend
Believe it or not, even if you can't go to the same strip club together, your fiancee is still your best friend. And this quote points out precisely that.
Join Us, and We're Blessed

Well, here is another unique wedding invitation quote that you could print on your cards and papers. The presence of the people that you love really makes you blessed, right?
No Guarantees
Well, here is great advice. Even if this quote has been said humorously, we will need to really understand what it wants to tell us.
On Your Wedding

Here is more from the wedding quotes for cards. It is simple, yet it tells a lot of things to the heart of the bride and the groom.
Congratulations 
This is how you congratulate the couple on their wedding day. Wish them the best that they have ever dreamt of.
The Saviour of One's Life
Isn't your fiancee awesome? They have saved you from so many sufferings and gave you so much happiness to live with. So, you may as well thank them on a special day for you two.
Happiest People

With this wedding quote, I would like to wish you all the best for your wedding and the life after that. That is just another way for me to tell you to really understand this quote.
The Three People

This is one of the most famous wedding quotes, I don't have to say why. So, you will need to make sure all three of you are going with accordance to one another on the day of your wedding.
Shower Us
Well, here is an invitation idea for a wedding shower that you are going to give to your best friend.
Always Be With You
How sweet would it be if your special one told you this quote on the day of your wedding, right? Well, this is exactly what they think as well.
Even In a Sea Filled With People 
Well, here is a special quote to say to your one during your wedding day. See how they blush.
In All Ways
In all ways that you can think of is the number of ways that you are in love with the person that you are going to marry with. This is one of the most interesting wedding quotes we have here, don't you think?
Friendship
Well, your friends are who have helped you a lot, and they are still by your side on the day of your wedding. Quotes for friends are also important in this day, don't you think the same?
The Imperfect Love
Love is not perfect, that is the beauty of it. Hope this quote will play a big part in your wedding day as well.
To Keep Your Marriage Brimming

Well, this wedding quote is just for you. It is something that you need to follow from this point onwards.
A Sincere Kiss
Her is you in this quote as well, you will understand this after your wedding day and forever.
That Many People

Many girls will definitely relate to this wedding quote, I will have to say. If you do as well, it is just funny.
And He
So, talking about you, are you ready for this moment? I hope your answer is yes because the day is coming faster than you ever know.
The wedding is undoubtedly a wonderful thing-all these wedding quotes helped us understand that. On the off chance that you are now hitched or anticipating the exceptional day, you certainly have gotten through far, and now it is your advantage, and you never need to think once more starting here onwards. For you know, withstanding choosing that the individual is the one for you for whatever is left of your life, your spirit has completed a considerable measure of reasoning on that lastly concluded that it was right. Along these lines, regardless of whether things are unstable on occasion which they without a doubt will be sooner or later in your life, despite everything you must be stable and recall these wedding quotes and understand the adoration that you have in your heart for them.
All in all, what did you consider these wedding quotes? Do you think they helped you by any stretch of the imagination? Were there any wedding quotes that you chose to keep for whatever remains of your life? On the off chance that your answers are positive to any of these inquiries, at that point I am truly happy for you and till the next time, have fun.