After rainfall happens, the sky is vivid, and it fascinates us. The rainbow appears at this moment to add vibrancy to the sky. We go on cherishing that scene, isn't it? Same is the case with the rainbow hair color. The best thing about rainbow hair color is it provides single glance with its coolest varieties. You go on enjoying with a lot of color shades in your hair.
As we know, city life is always busy. People are in a rush. In such a situation, individuals are starting to try for rainbow hair as it is close to nature. It gives a pleasant, relaxed and fresh feeling. Don't you think so? Here are the 104 varieties of rainbow hair you can prefer according to your fashion sense.
Super Short Hair
The hair is super short here. You may think about how to style your hair. Do not be in haste. Rainbow hair color is always best choice for you.
Half Updo

Can you take your eyes off after seeing this above picture? It is an eye-catching image. If you loved it, go and get a try.
Simple Braid

In the beginning, start from the top. Slowly and gently manage to form cute braids out of it until the end. It is suitable for your long hair. Add any hair color according to your choice.
Messed Curls
Do you love to look extraordinary among the crowd? First of all, settle your hair in curls if you do not have naturally curly hair. After that, supply different color shades.
Little Waves

These little waves in this medium length hair look pretty along with glamorous varieties of rainbow hair color.
Rainbow Hair Color Updo

Do you worry a lot how to manage long hair? You chill out. Firstly, take a half section and form an updo. Secondly, leave your other part as it is.
Rolled Side Hair

The upper figure depicts a rolled side hair while the lower one is a super short hair. You can prefer that one which you like most.
Straight Hair
Here we have a straight hair. A faint shade of the variety of rainbow hair color is added in the hair texture gently.
Short Bob
Of course, it is a short bob along with brow-skimming bangs. Add amazing colors you aspire at the tip of your hair.
Fishtail Braid

Wow! The hair is supra long. Supply any hair color you prefer. After that, from fishtail braid with your half section. Finally, leave your half section as it is.
Eye Sweeping Bang

The hair is short with sweeping eye bang. You can add different types of colors as in this above figure. But remember to supply shade only to the front part.
Little Curls

I prefer to call this as little curls as the length of her hair is short, and the model form curl out of it. Finally, add honey brown highlights.
Back View of Rainbow Color

Why not try something new and enjoy it with great fun? I have some great idea stuck in my mind. Have a glance at this above picture. Try this hairdo.
Rainbow Hair Color Mohawk

There are many gatherings and occasions when you like to have a sophisticated look with lots of colors. For such a situation, give a chance to rainbow hair color mohawk.
Long Hair

The long hair with color varieties offers a lavish look. Manage your top section in blue shade. After that, there is purple. Then, mixed brown is there. Finally, the bottom is with blue color again.
Twisted Knots

It is a remarkable transformation we have ever known. Out of straight middle length hair, the hairstylist form twisted knots along with rainbow color.
Lovely Bob

If she is amidst any crowded area, her hair will sparkle. This lovely bob grabs the attention of many people, and one can't take off their eyes.
Platinum Shade


Are you a die heart fan of platinum? What are you waiting for then? Settle your hair in a platinum shade. At last, put different shades as in this above picture.
Updo
Updo is always convenient to carry out. On the one hand, it manages your long hair. On the other hand, it gives a vintage vibe.
Transformation

In the upper figure, we see a transformation of straight hair to a wavy one along with an addition of several tints. The lower image depicts a rainbow hair color underneath.
Long Hair Braid
Women with long hair mostly prefer braid to style their hair. Though simple and elegant look it provides, an addition of color shades enthralls vintage vibe.
Messed Variety

As you can see in this above picture, it is a medium length hair. The hair contains a mixed tone of ash brown, black and red.
Sophisticated Curls
Women approach curl because of a beautiful romantic feeling. The model got a sophisticated look.
Layered Bob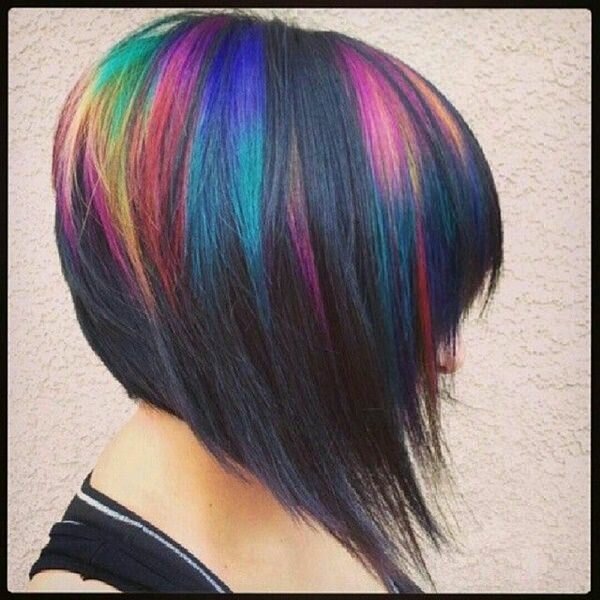 Do you want to try some classy look? Come, and have a glance at this layered hairdo. You can go to your hairstylist and get this shape. At last, what you have to do is to add the range of colors you wish.
Straight Bangs

The straight bangs seem suitable for a Mongolian face. Are you in confusion about how to add the tint? Keenly observe an image and then follow the procedure.
Ash Brown Smoky Variety

Mostly teenage girls prefer ash brown as it offers a relaxed and fresh glimpse you aspire. You can make your hair short as long hair takes extra time and care to manage.
Waves Sophisticated
Initially, form beautiful waves. You have to form them right from the top. Settle soft versions of blue and pink from the upper to the bottom part.
Rainbow Hair Hidden


It is not always necessary to show your hair color. If you believe in this idea, then for once apply rainbow hair hidden. Rainbow hair hidden is fit for any hair.
Flower
Don't you feel flowers are an epitome of beauty and grace? Are you an intense lover of flower? Then this hairdo with a flower is perfect for you to try once.
Soft Version

How do you like to define beauty in a few words? It may be simple, soft, and elegant. Then this season try this sweet version of the hairstyle with rainbow colors.
Rainbow Hair Pastel


Fashionistas have set a new trend of the color shade called as rainbow hair pastel. You can call them a soft, and fantastic combination of diverse color types as shown in this above image. If you are ignorant about it, consult your hairstylist for better knowledge, and how to do it.
Black Bun

We all can see bun is formed out of black hair. In your lower back section, add dark blue, red, and blonde to give a fascinating appearance. Colors are the symbols of happiness. You can become happy with them.
Variations
Variations signify diversity. Diversity depicts different possibilities. Start to check all these variations and add that one to which you aspire.
Little Girl

These little girls age may be from twelve to fourteen years. In this image, there is four strand braid which is in different tints. Both of these images look mesmerizing.
Great Transformation

Do you want to look stunning with this stylish hairstyle? First of all, go to your nearby saloon. Secondly, consult your specialist. According to his/her suggestion, style your hair.
Simple Bun

May it is ladies, girls or middle age women, buns their all-time favorite. It is super easy to form also. You can form high, low or side bun as you wish. All you have to do is to gather whole hair at a place and form a bun out of it.
Green and Blue Bob

Do you want to try blue and green shade combination along with pink and orange? No matter at all. Create a bob, apply the tints, and see magic it creates in your hair texture as a whole.
Pink Bottom

Whenever we think of pink in our mind, we assume it to be soft. Sometimes we are fed of trying with a glam-up and glossy look. In such circumstances, our heart longs for something which is soft and sweet. For that, what can be better than pink?
Color Underneath

Color underneath is a new trend in the world of fashion. Individuals do not add color to show others. But instead, they supply it in their hair to cherish new look. If you dare enough to break so-called regular patterns, this can be in your way.
Golden and Smoky

Hmm. Are you astonish that it demands a lot of hard work and concentration? You are wrong then. In initial phase, supply golden version to a side and smoky to the other. It is all set. Super easy!
Eye-Catching Color Combination

Fashion always matters the most to our girls. Try this eye-catching color combination, and set a new trend of fashion. Isn't it a pretty cool idea? First one prioritizes the combination of tones in the long hair while latter one signifies a middle length hair with little waves.
Rainbow Hair Short

Live your life in your terms. Are you a great admirer of this idea? Why are you waiting? Style your hair to rainbow hair short. Feel tremendously blissful with this hairdo, and free yourself from all preconceptions finalized by society about being a woman.
Four-tone Combination
Do you prefer to add something extra to your style? Try this four shade combination. As a result, you are going to be a new trendsetter of fashion and style.
Wave in the Curls
So, these are the waves in your curls. At the initial phase, divide your hair into two section from a side. Then, create lovely looks with help of different color varieties. Are you in the mood of doing so?
Variety of Bun

Go on forming a simple type of bun as you like it. The model in the image love to add greenish blue, red, purple, and yellow at her backside.
Dark Tint

All these color in use here belongs to the dark section. We usually tend to think always a bright and shiny color is excellent. Still with darker shades model look with a lot of grace and elegance.
Rainbow Rage

Style in the hair brings back good memories. The rainbow rage reminds us of a beautiful rainbow in the sky after the rain. You can spread a positive vibe to the people around you.
Shiny Glow


This hairdo symbolizes the spark of sunshine. So, we name it as a shiny glow. Here, we add the variety of color in shoulder length as well as medium length hair.
Rainbow Under Hair
When you remember past days in your old times, happiness comes as the outcome if you ever try this hairdo. It is something which is unusual as its focus on coloring under hair.
Black Version
In this figure, we have black hair of medium length. The model prefers to add very few shades.
Unique Style
Yes, I prefer to call this unique style. One start to form braid from the bottom of the back to the top section as you see. Supply the color only in your braid section.
Old Women
Who says that fashion and style are not in the hands of old women? She is laughing thoroughly and enjoy her hair color shade to a maximum extent.
Bangs
Creativity knew no bounds. And the style encrypted in creativity is something which is phenomenal. Same is the case with these bangs.
Super Long Hair

The hair is super long as it goes down the waist. There are seven colour variations in it.
Rainbow Hair Color Short Hair

The look is vivid. The model prefers to do her haircut carefully. Before the whole part, only the front part is in a fantastic range of colors.
Rainbow Hair Color Techniques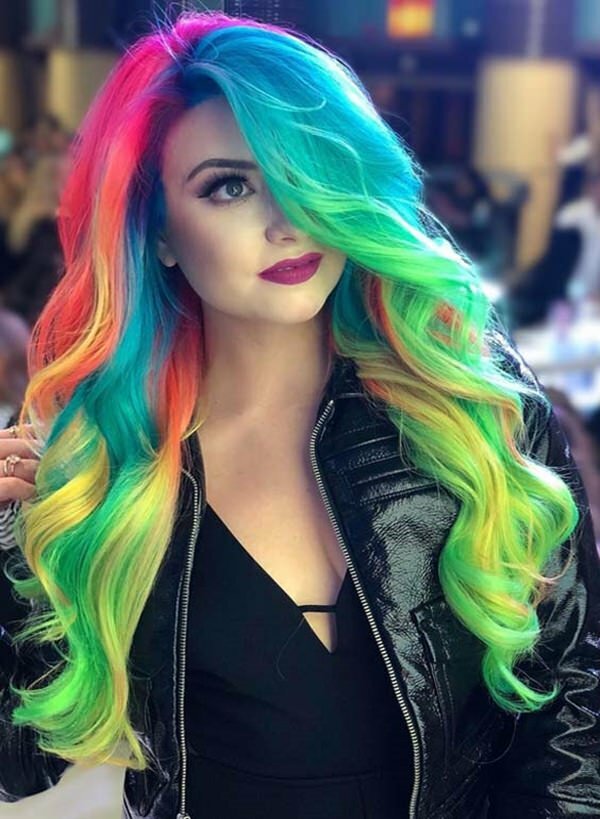 The list of the above figure tells us about the rainbow hair color techniques such as hidden rainbow hair, rainbow hair dye, pastel rainbow hair, rainbow hair underneath, etc.
Girls Hairstyle

We can call this girls style. They are frizzy and freaky. Girls like to be in their world, comfortable in their space. The hairstyle depicts the same.
Rainbow Hair Short

What a breathtaking style the model throws back! One can't take off eyes out of it. We tend to define it as short rainbow hair. She matches her nail polish with her hair color.
Half Section in the Black

In another term, one may call it rainbow hair hidden. As the picture depicts, half of the section of your hair is in the black while the rest is in rainbow color.
Rainbow Hair Color Ideas

Do you want to gain plenty of ideas about rainbow hair color? We are simply there for you. There is a range of the colors from the shiny to the soft one.
Colorful Ponytail

I prefer to call this a colorful ponytail. When you start gathering all of your hair to the top section at the back. Then, tie it in a ponytail. Add only that colour which you want.
Soft Pink
Though we name this picture as soft pink, yet there are the different color combination. Form romantic curls starting from the upper section till to the lower tip. Settle your hair in different color varieties.
Cute Smile

Doesn't she get a cute everlasting smile? What has added more charm to her sweet smile is a fascinating hairdo.
Reddish Curl

There is a very different combination as it is rainbow hair. We name it reddish hair only for convenience. Check out this beautiful variety as you may like to prefer it.
Long Hair Variety


Are you in a tension how to select a color for your long hair? If it is so, then do not worry at all. We bring out various versions of long hair variety to you.
Underneath
You can call it rainbow hair underneath. As you see, it is an astounding idea to try because most people color their hair at the upper section so they can be noticed by everyone.
Extraordinary Look

If the unique and bold look is your preference, your hairstylist may suggest you this style. Don't you think so?
Warm Touch-up

These are very different color shades-shiny and soft. Keenly observing shades, you tend to feel a warm touch -up. We especially prefer you to try this on winter season as you need more warmth in winter.
With a Flower

What gorgeous flowers they are! They do not need a single description of their elegance. They exist, and it is a proof. Apply these flowers in your mid-shaft section and love their fragrance.
Varieties of Updo

Updo does not demand much time. They are effortless. More than this, what one can expect from a hairstyle? As we see these updos, they grab our attention. We can't take off our eyes.
Ponytail
With her flawless long hair and flaunting little waves, she does not look less than an angel coming from heaven. She is adorable. One is speechless to describe her beauty.
Braids

Braids are one of most sought-after hairstyles by all girls and women. Here, we present you several version of braids. If you like it, you can try it.
Rainbow Hair Color Underneath

I want to cherish any style I love with me myself. I do not want the world to know it even for a single moment. If you have such an idea hankering your mind, this hairdo is perfect for you.
Turned Braid
One may be astonished how one can form a turned braid. Here is a procedure for this. Form a braid taking your hair to a side. Then turn it to the next part.
Numerous Braids

As the name suggests, form many braids.First of all, create a center-partition in your hair. Form fancy braids on both the sides. Again, create numerous braids seeing this above figure.
Shoulder Length Hair

It is shoulder length hair. As your style is messy, it does not demand much time. An appearance it enthralls is outstanding.
Curls from the Top
As we all know, curls always give a romantic feeling. So why not to provide a chance for this hairdo? Shades are in great diversion, and it well sets a romantic feeling.
With all this, we finish up with breathtaking 104 different versions of the rainbow hair. The fascinating thing is it matches to any hair length and facial complexion. That's why, it is in a huge trend these days adopted by girls, boys, women, and people of any age group. People may have hesitation to try with only one color shade as it may not match their skin tone. For them, rainbow hair is a cool option. Go and get a try.