A military haircut may not fall under the superstar of all haircuts. The right trim can give you an astonishing look to be sure. Talking about the military haircut, it's past; it was only used by the military personnel once. It has now become a trend to those men out there who would die for having a short hair. Although military hairstyles may look the same to all but this haircut may vary from various angle and type of the trim you have. This haircut may also turn to be a boon for those guys who are suffering a certain kind of hair patches or hair-loss. Starting from the full shaved like short hair and through to the butch cuts, we have a lot of variation in this haircut.
The military haircut is a short kind of hairstyle. So, if you are one of those guys who are not fond of short hairs, this may not be the thing for you. This classic haircut is not only adapted to the military recruits. But now it is a trendy hairstyle for men who are out of the military world. It's kind of a common haircut so I would recommend you add something extra to the military haircut that suits you and you are ready to go! They are easy for maintenance, and they avoid some hair fall too. And the good thing is you are handy in using some hair clippers than you can have this haircut at home by yourself too! Ha! What could be better than that? So guys out there, here are some ideas and styles categorized for you to assist you in having military haircut.
. The short, the better!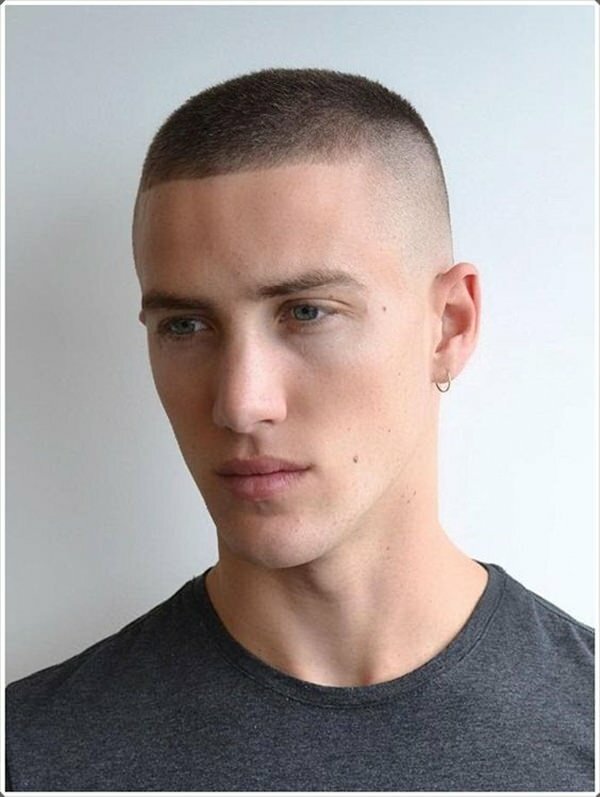 As we have talked military haircuts are the short kind, this may be the purest kind of military hairstyle you will find. This army cut hairstyle has been popular among those guys who want the most possible shortest and stylish military cuts. Starting from the crew cut and military buzz cut, the sides are mostly the shortest part of military haircuts and all the way to the top. The top side of the hair may vary from person to person. Some may like to equalize the top to the sides, and some may like to keep it 2 inches long. It is currently the shortest form of military haircut. It depends on a guy's mind. But looking at these above pictures its a fabulous kind of haircut you can get.
The military considers and classifies this as a shorter and easier kind of military haircut. So you better be clear about it before getting it at the salon or yourself at home.
. Short bangs at the top
Usually, the military haircuts are supposed to be as short as possible, but when it mixes up with another kind of haircut, you will get that bomb hairstyle you can ever get. These are maybe the most popular kind of mix up military cuts out there. The sides are for trimming and should be as short as possible or sloped according to the demand. It's better keeping it long with some bangs starting from the front of the forehead to the end of it. This is a demanding hairstyle at this age. Many film stars and other celebs are fond of this hairstyle and are getting trendy day by day. So it's like a military haircut fade style because it's trimmed at the sides and edges just avoiding at the top.
. Fresh and wet
As shown in the photos above, if you are one of those guys who want military cuts and also keep your hair wet and fresh and avoid all the dryness to your hair than this may be the best choice for you. Short hair can turn out to be easy to maintain, and this hairstyle can avoid dryness of the hair. Wet hair can give you that fresh and ready to look at anywhere you are. Have a military haircut kind of haircut and get some gel and stuff that are not harmful to your hair and apply it to your hair to give it a wet look. This kind of look goes out with any sort of wardrobe you wear and provides you with a fresh and stunning look you have been searching.
. Almost bald
This is considered as the haircut that is given to the recruits at the starting days of the training or boot camp in the army. This is almost bald cut kind of army hairstyle. You can cut it to the shortest as possible using the clippers. Some even use the trimmers without the guard so that they can get a neat and smallest cut possible. It's not much of an attractive haircut but some ladies out there sure do love men with a bald look. It has no any fade haircut look as it is done equally on the all sides so this may be unattractive for some guys. Be sure about it before getting it. Guys with hair conditions can have a go for this haircut. However, if you need it, go for it.
. Faded
This is one of the "never go out of fashion" type of hairstyle. Usually, the military guys cut the sides as much as short as possible, but the professional hair stylist nowadays has modified to a greater and smoother style. The top side of the hair is kept 2 inches long, but you can trim it as per need or style. The sides are trimmed as they look faded and smooth. This fade haircut style has now got more attention than any others because it's got these multiple choices you can choose and adapt. You can just keep it short, or you can just slope the sides and have some long hair at the top. Don't try this at home of you are not a professional. Get inside a men salon and get it done better.
. The mandatory



This is known as one the oldest kind of military haircut. This army cut hairstyle is one of the fanciest hairstyles till known because it can be trimmed on a long hair too. Nowadays, hair designers have made so many variations in it that it has multiple choices we can dive into. Its specialty is that you can keep men short hair bangs and long hair at the top side. The hair at trimmed at the top side is slightly left to hang at the sides in some styles, and the sides below are trimmed short as much as possible. Usually, the barbers and stylists use a scissor too at the side to get that sloppy look, so you better be gt going at the salon to get this haircut if you are not an expert on this field.
. The flat top
This haircut maybe was preferably made for those guys out there who have straight hair. The sides and the back side hair as cut short as possible according to the shape of the face. It is important that the side cuts and the back haircuts are made according to the face and the appearance of the guy because it should suit him. The goal is to look yourself good with hair. So its the flat style that runs the show, according to the face. It is commonly known as flattop military cut.  It's named flat top because the top is purposely trimmed into a flat shape that gives a man a stunning bold look. You can also purposely make your hair straight nowadays and have this haircut. Just make sure it suits you and with the clothes you wear.
. The famous "Crew"

With the sides cut short to its best and a little long hair at the top front to brush it, you can have the famous crew cut that everybody keeps talking about. It's not a complex kind of military haircut but a simple one. The side hair and back hair are cut very short and tapered too sometimes so that the hair at the top front doesn't vanish already. You can also adapt this with a nice line of beard in your face and attach to the crew cut. That would look complete astonishing. Its a nice choice for a military cut. With the front hair being a little bit longer, you can style it to the side or build upwards to have a spiky look at the front. Make sure you get the suitable length for you at the upfront hair.
. The faded butch


As we already talked about combining military haircuts with another kind of sport and classy haircuts. So this may be proof and a boost for that sentence. Realising that you want both faded and butch cut hair, you end up mixing those two type of haircut, and you suddenly get this faded butch style. It is like mixing up spices and making it look more stylish than ever. Taper or trim ta sides with a faded style at first and have some butch trim over the top. Now you need to be careful doing this. Mixing up is not that easy, so if you are not confident enough, let's take this to the professionals and have a nicer and better-faded butch look.
. Slick and faded

This classic haircut just gets better when the sides faded. Men who want classic will surely have this kind of military cut. Let's just say stylists just added a dessert to a better dinner. The sides are fade to the shortest as possible. The top hair should be long and trimmed just at the edges to be flipped backward at last. It's a clean military hairstyle. Just fade style is upgraded in it. It would look good in the non-faded butch style, but this is great for someone who wants to have a long hair with a faded side. You just need some great gels and lotions for your hair that doesn't destroy your hair, and you are good to have this hairstyle.
Apply some gel and flip it at the edge of your head top. This is salon kind of hairstyle, so I highly recommend to get contact with the professionals.
. The wild Undercut
Undercuts are those hairstyles that never go out of fashion. These styles have been hanging with us for a long time and still in great shape among guys. Although faded cuts are decreasing its popularity bit, since hairstyles depend on a face-shape and personality it will live with us for some time. The sides are for trimming into short as much as the trimmer holds of it and at the top hair has a choice whether to be long or short. You can keep it long and hang those bangs out, or you can keep it a bit short. The side hairs are usually cut into equal shape, less than an inch depending on the top hair and your need.
A great line of beard would support nicely to the undercut. It's a sexier form of military cut. This is a combination of current swaggy hairstyles with old classic military cuts.
. Parted and medium faded
We are again into the combinations of the hairstyles. The above photo is perfection of both fade and part hairstyle. This military cut hairstyle is seriously a bomb nowadays on the town. The top of the hair can be long as long as it suits to the person and the sides are half fade and half part. The side top of the hair is for clipping in half, placing to the sides facing downwards. This here combines the fade and part hairstyle. This beautiful piece of haircut requires both clippers and scissors to design. It is highly a professional's job. It's a classic military cut. It's perfect as the cherries at the top of ice cream. It is a clean trimming, no any bangs hanging and false trimming. Among all those military cuts, this may be the cleanest and perfect cut you will ever see.
. High & tight recon cut
Military reckon hairstyle is the most suitable fashion for the military guys after full shave. This hair has a maintenance score of zero and is easy to gain. You can just do it at home if you area regular self-worker. The sides should be getting some trim all the way to the top. You should be careful while taking the clippers to the inside top since you have you equal the other side too. It's a cool military cut. Make sure you have someone looking at that while you trim this hairstyle. Marines usually use this kind of hairstyle as it suits their environment. This haircut is like a brother in the arm to the Mohawk hairstyle and looks more conservative than other kinds of military cuts. It makes you look more open and saves your time considering the maintenance part of the hair.
. Crew Undercut

Combining crew cut and undercut style would be a fancy idea. A little hair at the top for brush and cleanly trimmed undercut at the sides would just do fine. A perfect line of beard would also add the perfect spice to it. The militaries are like obsessed with this haircut nowadays as it gives a short and a cooler look. It also falls under the low maintenance hair. This haircut is present in most of the guy's bucket list too. It's a perfect military cut. Teens and Adults seem to have this haircut mostly. A perfect clean cut at the sides and just a little hair to groom which you can either face it sidewards of spike it upwards is the main reason behind this haircut to be more popular.
. High and tight

This certainly must be an "easy to get" hairstyle as it dates back centuries from the militaries history. It may be not the last haircut you want to get, but it certainly is not that bad. This haircut should be suitable to those men who want their hair cropped but not buzz cut or a shave. Yes, it a bit complicated but you can easily get it at most of the places you are. This haircut flows onto various professionals, sports person and mostly in the military. So if you are one of those guys who does not prefer butch cuts or crew cuts, you can give your hair to grow a bit at the top and get this haircut as soon as possible.
It may be a little sweaty to get this haircut on your own, so hand the Clippers to a person that has expertise on the field and you will get a perfect high and tight haircut.
. Messy and long crew cut
So, any people out there who wish that the crew cut could be a bit longer? Well, you dream just came true! You can just invent your crew cut to a new form and make it a bit longer in shape. If you just had a crew cut style then leave it for it to grow a bit longer and it will come into style in its own. And guys with other haircuts grow your hair a bit longer and head for the salon. Mostly the barber would use a pair of scissors for this mix-up haircut, but trimmers would also do good if you want the sides a bit shorter. Just trim your long hair a bit, and you are all done. The hair has to be 2 inches or more for a better lengthy crew cut as it may give multiple choices to style your hair.
. Faded crew cut

Combining crew cut and faded cut is like mixing two flavored ingredients in one recipe. This hairstyle nowadays maybe the most trendy among the sportsperson, professionals etc. It saves their precious time for the maintenance of the hair. The sides are for trimming in slope form as regular, and the topmost part of the hair is also for clipping it short and keeping it a bit longer so that the style of it doesn't fade out matching the sides. Well, the topmost part is a decided according to how long you want to keep it but, you should be able to identify what is good for you, either long or short or maybe medium will just do it. It's a cool style to get and is cheaper to maintain too.
Army Haircut Photos

.
Military High And Tight Haircut

Conclusion
At last but not the least, you would surely want to have a look at these pictures below for other options than you can show to your barber or do it yourself at home. Just make sure you select and get the right option for you. It's all about the choice you make. You can also have a look at other military crew cut and army cut hairstyle. Many military buzz cut and other options are available, and you can just pick them up and try one of them. Besides, you can even look for the military cuts according to country wise. Because militaries of different countries adapt various kind of hairstyle, You can look for Indian army cut hairstyle or the Chinese have other great options and many more. As we also talked about combining various haircuts.
You can also experiment them on yourself. Who knows? You can get a unique and new kind of style that would break the internet and pull those ladies right up to you. Make sure you maintain your hair in a good way, however, your haircut appears because you can only get an attractive haircut if you got some hair on that head of yours. Use quality gels and ointments for military haircuts if you prefer it, and this will surely avoid you from baldness and hair conditions. Shampoo it regularly and keep your hair clean so that you military cut would even look more shiny and attractive. Pictures below will certainly give you some more options to look at and make a great choice for your hair. Keep trimming!